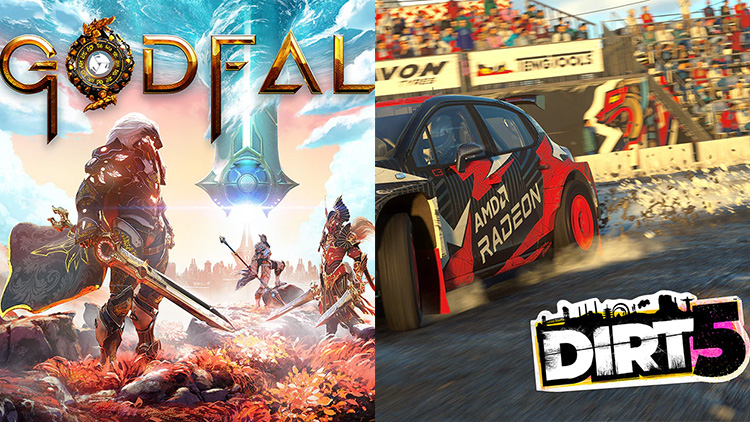 AMD during yesterday's presentation of the Radeon RX 6000 did not disclose many details, including details about the hardware support of ray tracing. However, the company mentioned that it has helped to implement ray tracing (through Microsoft DirectX Raytracing) in two games that will be released very soon: role-playing action movie Godfall from Counterplay Games and DiRT 5 racing from Codemasters.
And on the page AMD, dedicated to DirectX 12 Ultimate, the company has placed comparative screenshots of both games with included effects based on raytracing and without them. Frankly speaking, in both cases the difference is minimal. Shadows seem to be more accurate, richer and more dense, but that's all: we hope that such subtle improvements will not affect performance too much. By the way, DiRT 5 also supports Variable Rate Shading (VRS).
These are two of the DirectX 12 Ultimate optimized games that AMD seems to be working on, along with World of Warcraft: Shadowlands from Blizzard (which also has ray tracing-based shadows and VRS support), Far Cry 6 from Ubisoft and The Riftbreaker from EXOR Studios.
According to the tweet published by the official Microsoft DirectX 12 account, all 5 games must include both raytraced shadows and VRS support, although we haven't seen either for Far Cry 6 and The Riftbreaker yet.
Given that all of these ray tracing implementations are based on Microsoft DirectX Raytracing, you can safely expect them to run on NVIDIA GeForce RTX 2000 and 3000 Series GPUs as well.
By the way, one of the performance tests of specialized Ray Accelerator (RA) cores flashed in AMD press slides: according to Microsoft DXR SDK Procedural Geometry, Radeon RX 6800 XT graphics card was about 25% slower than GeForce RTX 3080 in the tasks of hardware ray tracing. Of course, extensive tests will be required to fully appreciate the performance differences between the latest AMD and NVIDIA graphics cards.