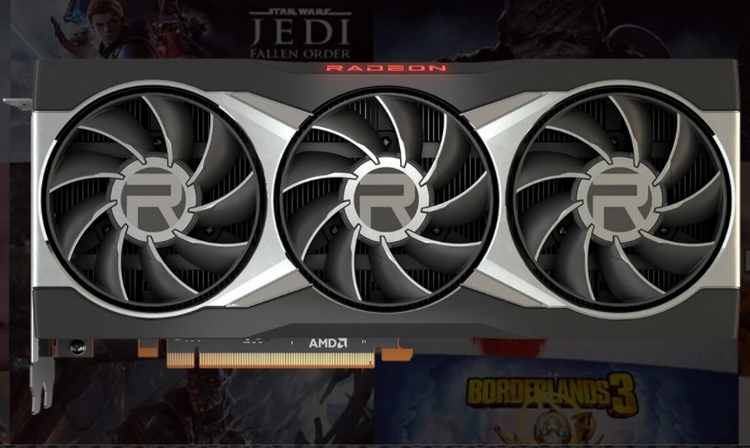 Last Wednesday AMD introduced the long-awaited Radeon RX 6000 series graphics cards on Navi 2X graphics processors with RDNA2 architecture. At the presentation, the company showed that the novelties can cope with the latest NVIDIA solutions, including the flagship RTX 3090. Now AMD has published the latest results of the game tests Radeon RX 6000. And their main difference is that they show average, not maximum FPS performance.
For starters, AMD has introduced three new-generation graphics cards: the flagship Radeon RX 6900 XT for $999, a slightly less productive Radeon RX 6800 XT for $649 and currently the simplest Radeon RX 6800 for $579. The first received a graphics processor with 80 processing units (CU), the second with 72 CU, and the third with 60 CU. Maximum operating frequencies in all cases exceed 2000 MHz. All three graphics cards have 16GB of GDDR6 memory and 128 MB each of Infinity Cache, which is designed to speed up the memory subsystem. AMD provides FPS averages for its three new titles in ten games at 4K (3840 × 2160 points) and QHD (2560 × 1440 points) resolutions. Also shown are the average test results for NVIDIA GeForce RTX 3090, GeForce RTX 3080 FE, and GeForce RTX 2080 Ti FE graphics cards. Video cards were tested in the system on a new

AMD Ryzen 5900X processor
with a 16GB DDR4-3200.
Operating system Windows 10 Pro (19041.508),
AMD driver version; 20.45-201013n,
NVIDIA driver version; 456.71.1440p.
In nine out of ten games in QHD resolution, at least one AMD video card was ahead of all other tested gas pedals. In some cases, such as Battlefield V, and at all, even a relatively budget Radeon RX 6800 was faster than the flagship GeForce RTX 3090, with an almost three-fold difference in price. The only game where « green » graphics card was ahead of Wolfenstein Youngblood.2160p; Wolfenstein Youngblood.2160p; Radeon RX 6800 was faster than the flagship GeForce RTX 3090.
But in 4K resolution the situation is somewhat different. Here only in half of the games AMD video cards were on the first line of the rating. In other cases, they were overtaken by the flagship GeForce RTX 3090, and in the game Tom Clancy's The Division 2 even GeForce RTX 3080 FE was faster than all the new AMD, even more expensive Radeon RX 6900 XT.FPS/$.
AMD also provides charts with a performance-to-price ratio, or to put it simply, how much FPS falls on each dollar of the gas pedal price. In most cases, the AMD Radeon RX 6800 and RX 6800 XT graphics cards proved to be the most advantageous purchase. All tests can be viewed here. Here it is important to note that the results presented by AMD were achieved using the Smart Access Memory function, which provides CPU direct access to the graphics card memory. This provides increased performance, but the function only works when using new AMD graphics cards with the latest Ryzen 5000-series processors. That's why it's very interesting to wait for independent tests, especially on systems with Intel processors. This will give you an idea of what the new AMD graphics cards are actually capable of.