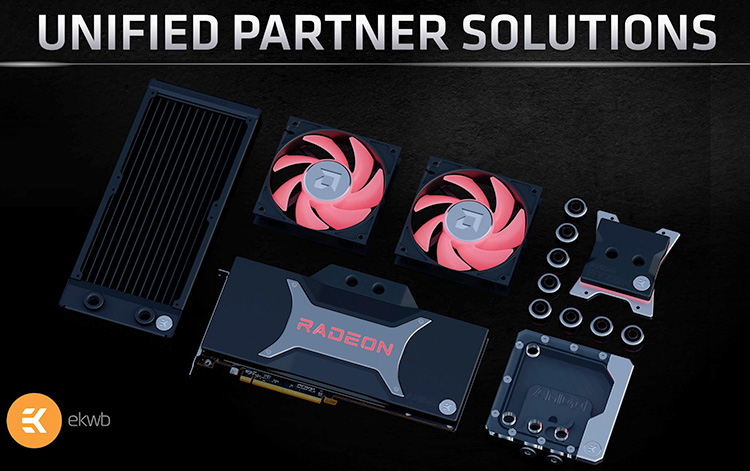 AMD's chief gaming architect, Frank Azor, announced at yesterday's presentation that AMD is working closely with its partners to provide compatible, complete cooling solutions for AMD's next-generation ecosystem.
EKWB cooling solutions for AMD Ryzen 5000 and Radeon RX 6000 (source: AMD)
EK Water Blocks (EKWB) is already developing liquid cooling solutions for the new AMD ecosystem. The manufacturer demonstrated the first liquid cooling solutions with optimized design for the Ryzen 5000 series and the Radeon RX 6000 ecosystem.
EKWB solution for cooling Radeon RX 6000 (source - EKWB)
AMD will release both Zen 3 processors and RDNA 2 graphics this month. An ecosystem with both architectures will benefit from technologies such as PCI Express 4.0 and AMD Smart Access Memory - the latter will allow the Ryzen 5000 Series processor to gain more direct access to all 16GB of Radeon RX 6000 Series GDDR6 video memory.
EKWB cooling solution for AMD Ryzen 5000 (source - EKWB)
All three Navi 21 graphics cards announced yesterday will have a similar board design, so any third-party cooling solution that is designed for one model should be suitable for the others. Not surprisingly, the EK waterblock images shown are compatible with Radeon RX 6900 XT (300W), RX 6800 XT (300W) and RX 6800 (250W).
"Only AMD can provide the perfect gaming platform with the Ryzen 5000 and Radeon RX 6000 bundle. (source - AMD)
EK has not yet confirmed when new products will be available. AMD Ryzen 5000 series of processors will be launched on November 5, and AMD Radeon RX 6000 graphics cards will officially enter the market on November 18.