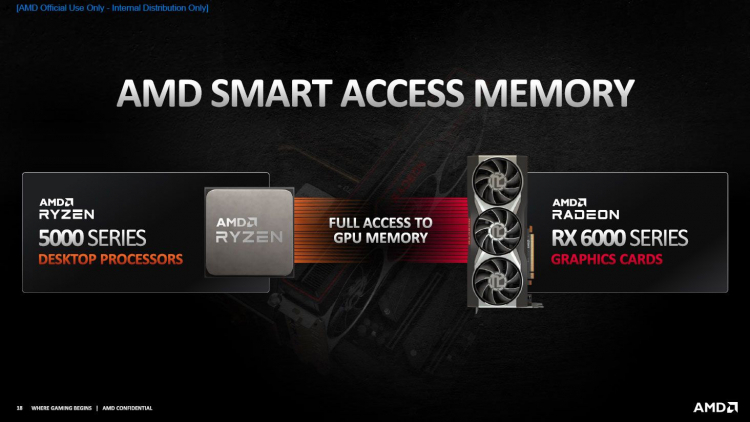 AMD stated that its Smart Access Memory (SAM) technology is not closed and is not only designed for use in bundles of its own Ryzen 5000 series processors and Radeon RX 6000 family graphics gas pedals. The company has simply not yet worked with other manufacturers to enable its support, although it welcomes the opportunity to do so.
To remind: AMD introduced SAM during the announcement of the Radeon RX 6000 graphics cards. While in conventional Windows-based PCs, processors can only access part of the graphics memory (VRAM) at the same time, this technology can expand the data channel, allowing the processor to immediately use the entire video memory array and eliminate potential bottlenecks, achieving improved performance.
Recently, NVIDIA revealed exactly what SAM is built on in the new AMD Radeon RX 6000 graphics cards. The GeForce manufacturer also explained that the technology is not limited to PCIe 4.0 bus or AMD processors only. Moreover, NVIDIA said that in its labs, the SAM already runs on Ampere graphics cards with Intel and PCIe 3.0 processors.
Prior to this, there was a rather strange situation: AMD has traditionally advocated open technologies, and with the announcement of RDNA 2 said that Smart Access Memory will only work with its latest Ryzen 5000 processors. As a result, NVIDIA, which is usually condemned for being closed, became a bulwark of open standards and promised to introduce a similar feature for its graphics cards that works with any processor.
It turned out that AMD is simply going to limit itself to supporting and running SAM on a bunch of Ryzen 5000 processors and Radeon RX 6000 graphics cards. And the technology actually uses BAR resizing, a standard PCIe feature - so it can work on other hardware.