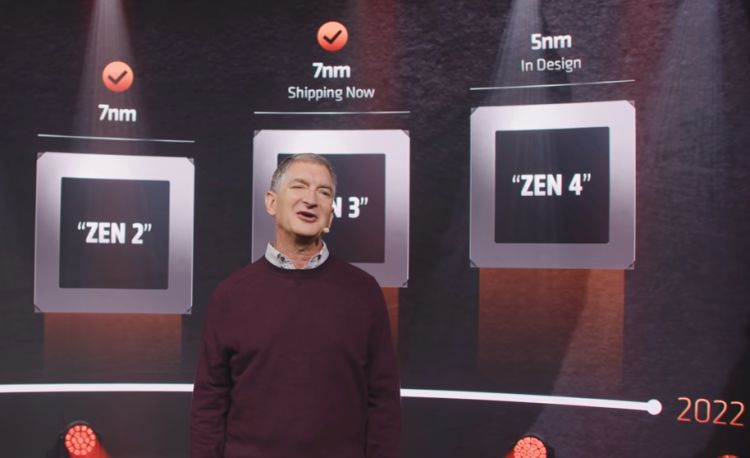 AMD has so far not been very happy to talk about processors with Zen 4 architecture. At the October presentation of Ryzen 5000, it was noted that they are currently under development, and will be released on 5nm technology closer to 2022. As it turns out, the performance improvements of Zen 4 processors will be achieved by a combination of factors, as in the case of Zen 3.
Image Source: AMD, YouTube
This was stated by Rick Bergman, AMD's Executive Vice President of Computing and Graphics Products, in his interview to TheStreet. He noted that the company needed to improve the Zen 3 architecture in several ways to achieve a 19 % increase in specific performance. In the case of Zen 4, the list of improvements will be as long as he assured. Branching prediction, cache structure and length variation of the executive pipeline will all be in line with the increased energy efficiency of the processors enabled by the transition to 5nm manufacturing technology. Bergman made it clear that even with the 7nm technology, AMD processors will be subject to intermediate improvements; at least because TSMC is improving its lithographic technology. Switching to EUV lithography for AMD is not a problem, but it does not provide any visible benefits in terms of processor performance. In fact, as Bergman explained, EUV lithography brings more benefits to TSMC. Speaking about the 7nm capacity shortfall of the TSMC, AMD's representative admitted that demand hasn't yet been fully met, but there is a lot of effort and 2021 can make a difference in this sense. Ryzen Threadripper processors will continue to evolve, but Bergman did not specify when they will switch to the Zen 3 architecture. Functions to accelerate AI systems will be implemented by AMD in their own processors, and over time they will appear even in consumer solutions. As in the case of RDNA 2, when creating RDNA 3 graphics solutions the company is going to pay close attention to improving specific performance per watt of power consumption. At the same time, AMD graphics solutions to use 5nm technology will move to comparable terms with CPUs, which actually indicates 2022. Since the use of EUV and advanced technology processes in the production of absolutely all components at a particular time may have limited economic feasibility, AMD will continue to develop layout technology. Three-dimensional layout will first be tried on by the most expensive and productive products of the brand, but in time it will reach the desktop segment.