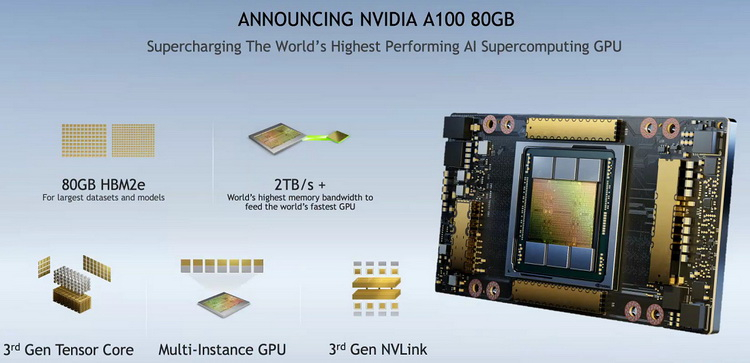 AMD and NVIDIA today introduced new graphics solutions for high-performance computing related to Artificial Intelligence algorithms. And if in the case of NVIDIA we are talking about updating the existing A100 gas pedal, which has increased the amount of memory and its bandwidth, AMD introduced a completely new solution in the form of Instinct MI100 gas pedal based on the new CDNA architecture.
The new version of the NVIDIA A100 graphics gas pedal, like the original one, is based on Ampere architecture. What distinguishes this new version from the previous one is the increased memory capacity of HBM2e from 40 to 80 Gbytes, as well as the increased bandwidth from 1.555 to 2 Tbytes per second. Other features of both versions of the gas pedal are the same.
At the moment, the new version of A100 is presented only in the form factor SXM3, so it is intended for use in its own computing platform NVIDIA DGX, as well as in HGX-platforms from partners. The latter will present early next year special kits for integrating the new A100 version into their existing solutions, including options that support the installation of 4 and 8 gas pedals.
The novelty from NVIDA will have to compete with AMD's brand new solution - Instinct MI100 computing graphic gas pedal based on 7nm CDNA architecture. Unlike the RDNA architecture, which is used in gaming and professional solutions aimed at working with rendering, the main profile of CDNA is high-performance computing and work with artificial intelligence algorithms.
AMD Instinct MI100 is designed to work with PCIe 4.0 x16 (64 Gbytes/s) interface. The Instinct MI100 GPU uses 120 executive blocks (Compute Units), which contain new blocks for matrix operations, used in tasks to accelerate calculations related to AI algorithms. According to AMD, the new blocks do not work at the expense of classical computing. For example, the peak performance in FP64 applications is 11.5 Tflops, while for FP32 it is exactly twice that of 23 Tflops, which is higher than the performance declared for NVIDIA A100.
However, in the same bfloat16 calculations Instinct MI100 from AMD loses to the competitor - 92.3 Tflops vs. 312 Tflops. In fairness it should be noted that this is a comparison with the SXM-version of the NVIDIA A100 gas pedal. The NVIDIA PCIe-version of the gas pedal, due to the lower power consumption in real-world tasks, can be somewhat slower. In turn, the Instinct MI100 is currently only available in the form factor of a full-size 300W PCIe card.
AMD Instinct MI100 is equipped with 32 GB of HBM2 memory with a bandwidth of 1.23 Tbytes per second. For comparison, the original version of NVIDIA A100 has on board 40 GB of HBM2e memory with a bandwidth of 1.555 Tb/s. With three Infinity Fabric (IF) interfaces with a bandwidth of 92 Gbytes/sec (276 Gbytes/sec total), up to four Instinct MI100 gas pedals can be bundled together, running on a "each and every" basis. The bandwidth level does not depend on the interfaces (PCIe 3.0 or 4.0) the Instinct MI100 set is connected to. The same PCIe version of NVIDIA A100 has only one NVLink interface which allows combining only two cards. However, the bandwidth is higher and is 600 Gbytes/sec.
According to AMD, its new solution is 1.8-2.1 times more attractive in terms of performance per dollar ratio than NVIDIA with its A100.

The first systems to receive the new computing graphics gas pedals AMD Instinct MI100 will be Dell PowerEdge R7525, Gigabyte G482-Z54, HPE Apollo 6500 Gen10 Plus and Supermicro AS-4124GS-TNR. It is noted that some of the company's partners have already received new gas pedals and systems based on them for performance evaluation and software adaptation.
For more details about the announcements of NVIDIA A100 and AMD Instinct MI100 computing graphics gas pedals, please visit our subsidiary ServerNews resource.