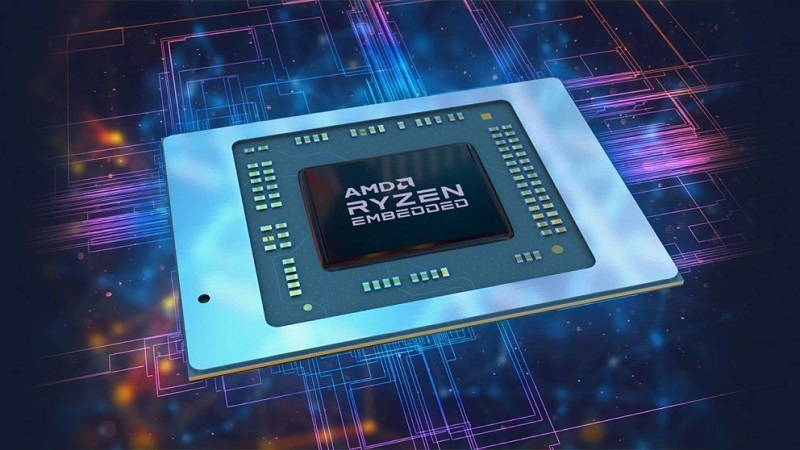 AMD introduced its next-generation Ryzen Embedded processors based on the 7nm Zen 2 architecture, designed for industrial and commercial segments and targeted at enterprise customers who require best-in-class performance with lower TDP. The new AMD Ryzen Embedded V2000 Series offers up to eight Zen 2 cores, Radeon graphics (up to 7 blocks) and 20 PCIe 3.0 lines in BGA execution. As expected, the series includes four models, two of which are & ; V2748 and V2546 & ; have a higher TDP value and higher clock frequency, while V2718 and V2516 chips have lower power consumption and lower clock frequency. All CPUs support dual-channel DDR4-3200 ECC memory.
The AMD Ryzen Embedded V2000 Series offers double the superior multithreading performance per watt compared to the previous generation, up to 30% higher single-threading performance and up to 40% increase in graphics performance. In addition to the speed advantage over the previous generation, the new processors feature advanced security features to help protect against unauthorized access to memory or critical software.
GPUs in the new SoCs support DirectX 12 and Vulkan, and can (de)encode video and support up to four displays at 4K resolution and 60 Hz. For single display, the maximum resolution is 4096x2160. Four HDMI 2.1 or DP 1.4 video outputs are available as well as four USB 2.0 and four USB 3.1 Gen2 ports. Two SATA-3 ports are available for the drives. Other interfaces include GPIO, I2C, LPC, SMBus, SPI, UART, SOUNDWIRE. The company guarantees availability of Ryzen Embedded V2000 to customers for the next ten years. The first to launch products on AMD Ryzen Embedded V2000 series processors will be Advantech, ASRock Industrial, iBase, Sapphire and other AMD ecosystem partners. It is noted that the novelties are a notable breakthrough in this segment, where quad-core chips prevail.