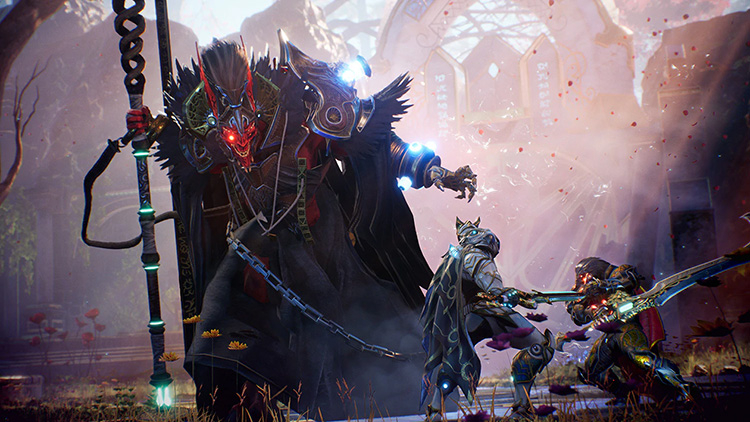 We have already written that Godfall from Counterplay Games is included in a small number of games that have received support for ray tracing and other optimizations for new Radeon RX 6000 graphics cards thanks to participation in the AMD partner program. The company released a detailed story about its cooperation with DiRT developers, and now a similar video dedicated to Godfall has been released.
In this video the head of Counterplay Studio Keith Lee told about the latest technologies, which the game got due to cooperation with AMD. Godfall is built on the engine Unreal Engine and uses such features of graphic API DirectX 12 Ultimate, as DirectX Raytracing 1.1. The gunman uses « rays » for a more realistic and accurate calculation of shadows & ; previously the same could only be achieved by preliminary calculations of the scene and only for static, not dynamics.
The studio also added various effects to the game from the AMD FidelityFX set. For example, it's Contrast Adaptive Sharpening (CAS) technology, which helps improve image quality by achieving increased clarity with minimal artifacts, eliminating the loss of detail after the use of Temporal Anti-Aliasing (TAA) technology. The game also supports LPM (Luminance Preserving Mapper) & ; a method for processing wide range or extended dynamic range (HDR) tonal representation. This technology allows you to quickly and easily add support for extended dynamic range or wide range of tones to the game.
For high quality in 4K resolution Godfall sometimes uses textures 3920 × 3920, which requires huge bandwidth. According to the developers, Radeon RX 6000 gas pedals with 16 GB of GDDR6 memory and a high-speed 128 MB Infinity Cache buffer allow playing the game at maximum settings and high frame rates.
The game also supports Variable Rate Shading 2 (VRS) technology, which is designed to save graphics card resources. It reduces the load when calculating peripheral objects, low-value zones, or fast-moving parts of the scene, while maintaining detail where it is most needed. The result is significant performance gains while maintaining almost the same image quality. The launch of Godfall is expected on November 12 this year on PC (in the Epic Games Store) and PlayStation 5. Version for the Sony console will not be able to offer a resolution of 4K at 120 frames per second.