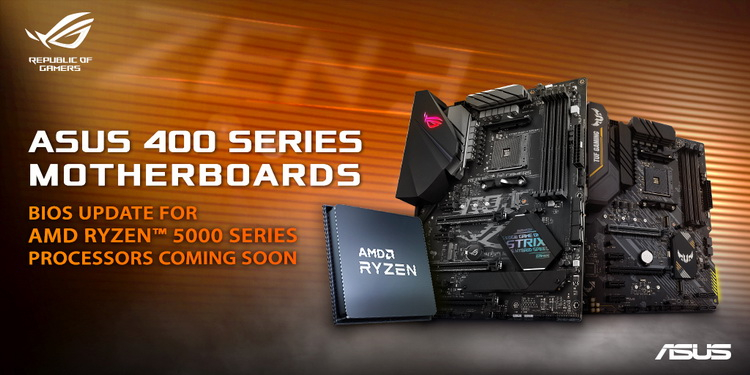 Good news for owners of ASUS motherboards based on AMD X470 and B450 chipsets. Taiwan manufacturer via Twitter confirmed that it will soon release new versions of BIOS based on AGESA 1.1.8.0 microcode, which will provide support for new Ryzen 5000 series processors.
The company indicated that the new firmware versions will be released in the coming weeks.
⚡️ News Flash! ⚡️ ASUS 400-series motherboard BIOSes updates (AGESA 1.1.8.0) for AMD Ryzen 5000-series CPUs will drop in a couple of weeks! #Zen3 #Ryzen5000 #X470 #B450 pic.twitter.com/fEygfSXHlK & ; ROG Global (@ASUS_ROG) November 18, 2020
The day before ASRock Company ASRock introduced new beta BIOS versions for its motherboards on B450 chipset with support for new AMD Vermeer processors on Zen 3 architecture. However, ASRock has new versions of microcode based on the earlier version of AGESA 1.1.0.0 protocol. The manufacturer also plans to provide appropriate support for motherboards based on AMD X470 chipset. The release of special BIOS versions supporting new processors based on Zen 3 architecture by the old boards seems to have started earlier than expected. Earlier, many manufacturers announced that they will release new versions of the microcode only in January next year, when AMD will present a special version of the AGESA protocol to initialize new Ryzen 5000 processors. According to the resource Wccftech, some manufacturers have confirmed that the new AMD processors based on Zen 3 in the future will also be able to work with boards based on the 300-series chipset AMD (A320 and X370). Special BIOS versions will also be released for them. Indirect confirmation of this has been observed only recently. For example, the 12-core Ryzen 9 5900X « started raquo; on the old budget board ASRock A320, apparently due to the beta version of the new firmware.