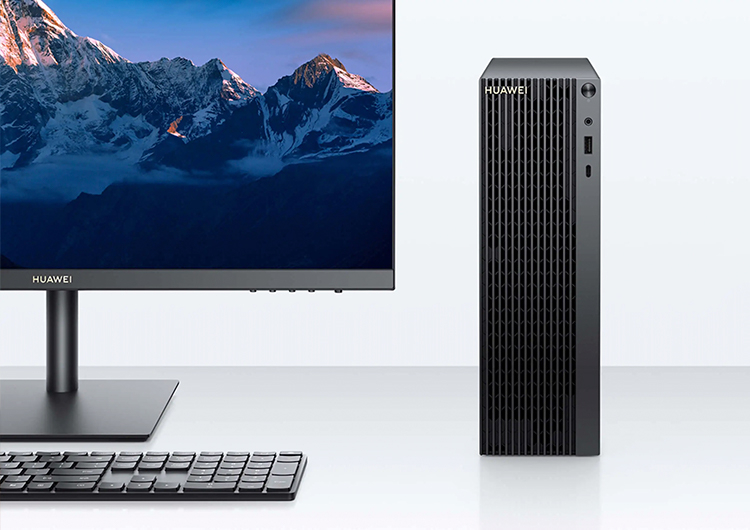 Today, November 21, the official website of Huawei published a publication with information about the desktop PC MateStation B515. The set, in addition to the system unit itself, includes a monitor, a keyboard with a fingerprint scanner and a computer mouse. And the heart will be the chip from AMD.
Image Source: Huawei
Earlier we wrote about rumors that the computer will be built on a 7nm Kunpeng 920 (D920S10) ARM processor developed by HiSilicon. Apparently, the company thought that the Windows computer market is not quite ready for such changes, so the MateStation B515 was based on AMD chips. Only two modifications of are available; with AMD Ryzen 5 4600G or AMD Ryzen 7 4700G processor. Both versions will use integrated graphics Radeon. The amount of RAM varies from 8 to 16 Gbytes of DDR4 type. For data storage there is a combination of M.2 SSD format with 256 or 512 Gbytes of capacity and a 1 Tbyte hard drive. Modules Bluetooth 5.0 and Wi-Fi 802.11ac,   of course, are available. The operating system became Windows 10 Home with pre-installed programs from Huawei, including Huawei Share, which allows you to quickly share files with Huawei smartphones over a wireless connection and run mobile applications from your smartphone on your computer. The computer comes with a 23.8-inch FullHD IPS monitor, a keyboard with built-in fingerprint scanner that connects via USB, and a wired mouse. Prices and start date are not yet announced.