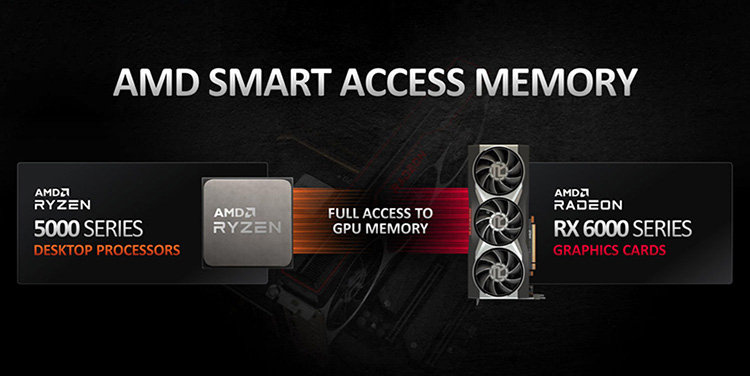 Yesterday AMD released its flagship Radeon RX 6900 XT graphics card based on RDNA 2 architecture. One of the advertised features of this and other Radeon RX 6000 series cards is AMD Smart Access Memory (SAM) technology. More and more motherboards of 400 and 500 series (for example, recently reported by Biostar) support this technology, and AMD decided to present a commercial about this technology.
AMD introduced the SAM technology during the announcement of the Radeon RX 6000 graphics cards and initially announced it only for the Ryzen 5000 processor. While conventional Windows-based PCs can only access up to 256MB of graphics memory at the same time, this technology allows the processor to extend the data channel, allowing the entire video memory array to be accessed at once, eliminating potential bottlenecks and achieving improved performance in some games. This is especially true now, when the amount of video memory used often exceeds 10 GB.
In this video, the company promises a noticeable performance increase in some games when activated SAM. For example, Forza Horizon 4 and Assassin's Creed Valhalla get a 1440p resolution gain on AMD Radeon RX 6900 XT up to 15 %, while Ashes of Singularity: Escalation in 4K shows a 13 % gain. The company still recommends using the technology on AMD 500 series motherboards with AMD Ryzen 5000 processors and AMD Radeon RX 6000 graphics cards. This requires the AMD Radeon Software Driver 20.11.2 or later, a motherboard with fresh firmware based on AMD AGESA 1.1.0.0 and activation of Above 4G Decoding and Re-Size BAR Support in the BIOS:
Recall: SAM is based on Resizable BAR (Base Address Registers) sizing technology, which is part of the PCI Express interface specifications since version 2.0 and is not an exclusive of AMD. SAM works quite well on Radeon RX 6000 and Intel processors on ASUS and ASRock boards, but AMD Ryzen 3000 and older processors do not support it hardware. Since this is part of the PCI Express specifications, NVIDIA also plans to add SAM support to some of its graphics gas pedals.