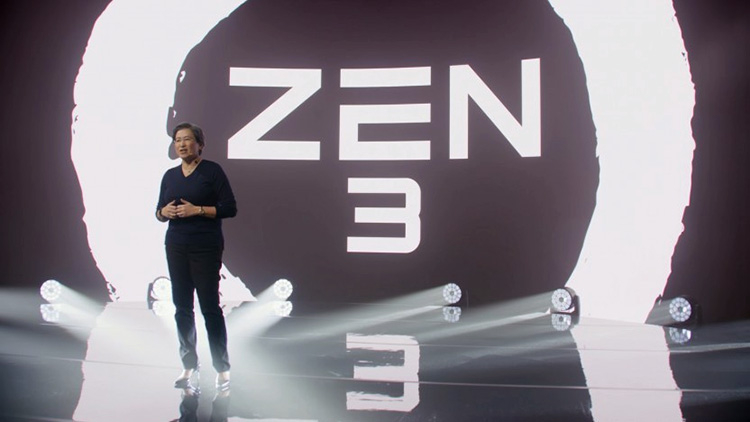 The AMD Ryzen processor family debuted in 2016 with the Ryzen 7 1800X as the flagship 8-core and 16-threaded solution. That processor's maximum Turbo frequency was only 4.1GHz, a far cry from the numbers now available on some Ryzen processors. Then AMD updated its processor architecture more than once, and German website Golem decided to compare four Ryzen CPUs from different generations.
AMD head Lisa Su in front of the Zen 3 logo (Golem)
The journalists tested four CPUs with the same configuration of 8 cores and 16 threads, but different architectures. All of them were tested on X470 and X570 motherboards (depending on the supported CPU). It's worth to keep in mind that journalists set memory frequency to support respective AMD Zen architectures. The first generation only supported 2666MHz memory by default, Zen+ & ; 2933MHz, and the last two generations (Zen 2 and Zen 3) & ; DDR4 up to 3200MHz. Memory frequency can have a big impact on the performance of AMD Ryzen processors.
Performance of AMD Ryzen 8-core processors of 1000–5000 families (Golem, VideoCardz)
According to Golem's tests, AMD Ryzen 7 5800X on Zen 3 offers on average 80.9 % better performance than Ryzen 7 1800X in seven games & ; testing was done in Anno 1800 (Anno Engine), Counter-Strike: Global Offensive (Source Engine), Microsoft Flight Simulator (Asobo Engine), Grand Theft Auto V (RAGE), Kingdom Come Deliverance (Cry Engine), Planet Zoo (Cobra Engine) and A Total War Saga: Troy (TWW2 Engine).
Game performance of different generations of AMD Ryzen (Golem)
Zen 3 processor was also 72 % faster than Ryzen 7 1800X in common applications & ;  Tests are done with 7-Zip (Archive Reading), Adobe Premiere Pro (Video rendering), Blender (Cycles, 3D rendering), Cinebench R15/R20 (3D rendering), Faststone Image Viewer (Image Processing), Unreal Engine 4 (3D rendering) and y-Cruncher (AVX-512).
Application performance of different generations of AMD Ryzen (Golem)
A more detailed table was compiled by 3DCenter journalists, who took into account individual results. By their estimates based on the same tests, Zen 3 gain over Zen is 89 % in applications testing, and up to 84 % in games. And every new generation of Zen including even Zen+ brought 16 % to 27 % performance boost:
Performance of different generations of AMD Ryzen (Golem, 3DCenter, VideoCardz)
AMD is expected to release new desktop processors based on the Zen 3+ architecture, codenamed Warhol, sometime next year. They could still be part of the 5000 series or get the new name Ryzen 6000. Meanwhile, the first Zen 4-based processor should be released when AMD is ready to provide DDR5 memory support on desktop systems. Processors codenamed Raphael are expected to support the new memory technology and also move to the new AM5 socket.