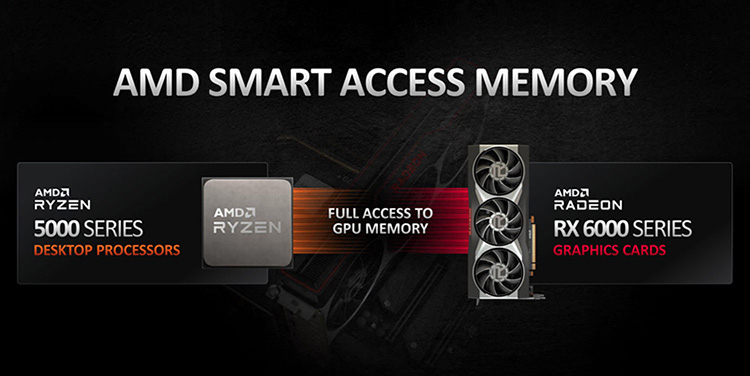 At the announcement of Radeon RX 6000-series graphics cards, AMD noted the Smart Access Memory (SAM) technology, which provides an increase in performance when the gas pedal works with Ryzen 5000 (Zen 3) processors. Previously, it was reported that Ryzen 3000 and older AMD chips, unlike Intel processors, do not support SAM technology, due to lack of the necessary hardware and PDEP instructions support. But it turns out that not everything is that simple.
To begin with, SAM is based on the Resizable BAR (Base Address Registers) technology which is part of the PCI Express interface specifications since v2.0 and is not exclusive to AMD. Whereas a regular Windows based PC can only directly access up to 256MB of graphics memory, the Resizable BAR technology allows you to expand the data channel allowing the processor to access the entire video memory array at once. This eliminates potential bottlenecks and provides performance boost in some games (up to 15 % according to AMD estimates). This is especially true nowadays when the amount of video memory used in games often exceeds even 10 GB. Resizable BAR quite works on a bunch of Radeon RX 6000 and Intel processors on ASUS and ASRock boards. Since it is part of the PCI Express specifications, NVIDIA also plans to add support for this technology to some of its graphics gas pedals.
Rumors regarding the lack of SAM support in Ryzen 1000, 2000 and 3000 chips were first refuted by Ian Curtress of Anandtech, who got an explanation from AMD itself. It turns out that SAM does not rely on the PDEP instruction and will work regardless of how well the instruction is supported by the processor.
Now MSI and ASUS have demonstrated how SAM works on various AMD Ryzen processor series that do not have the Zen 3 architecture. According to the published screenshots, AMD Ryzen 4000G and Ryzen 3000 series processors with Zen 2 architecture will also support SAM on AMD 500 series chipset motherboards. ASUS, on the other hand, has shown the possibility of using Re-Size BAR with the Ryzen 7 1700 processor based on Zen. Earlier this week Igors'LAB published a story that NVIDIA is also working on an alternative to AMD SAM technology. It is claimed that there are discussions within the company as to whether the GeForce RTX 30xx series should support this technology. It's unclear if any final decisions have been made on this, but given that NVIDIA has said it's considering adding Resizeble BAR support, it would be too late to back out.
Meanwhile, AMD hasn't made any public statements regarding potential SAM support on older Radeon graphics gas pedals.