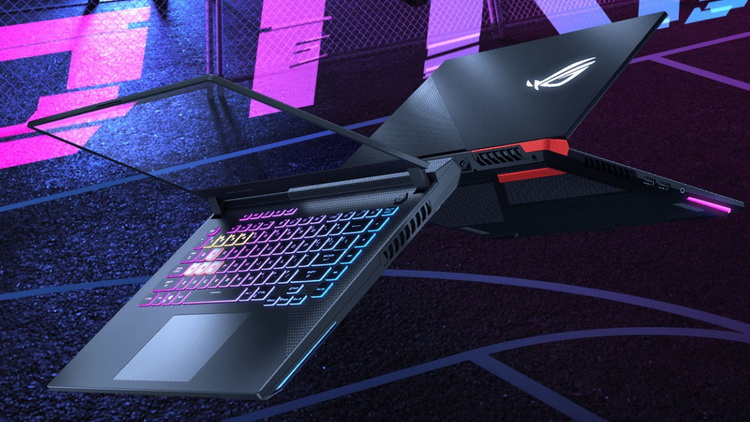 ASUS has confirmed its intention to unveil new ROG Strix series gaming laptops at CES 2021 next January. Not only is the manufacturer going to upgrade its portable gaming systems with GeForce RTX 30-series graphics accelerators, but also for the first time it is going to unveil models based on AMD mobile processors.
Promotional materials published by ASUS do not provide the exact specs of future gaming laptops, but interesting information about the upcoming novelties shared Chinese edition ITHome. According to it, ROG Strix 2021 laptops will be able to offer AMD Ryzen 5000H processors, up to the flagship Ryzen 9 5900HX model.
At the moment, it's unknown how much this chip will differ from the Ryzen 9 5900H version reported today, but VideoCardz resource suggests that the main difference will be in the stated TDP level of the processors, as well as their auto overclocking potential. We assume the possibility of even manual overclocking.
As a graphics subsystem fresh gaming laptops ASUS ROG Strix will offer mobile versions of GeForce RTX 3060, RTX 3070 and RTX 3080. It is noted that this is the first time gaming notebooks will feature a configuration of high-performance NVIDIA graphics cards and powerful AMD processors.
It should be added that the announcement of powerful eight-core mobile chip Intel Tiger Lake-H45, which will be a direct competitor to AMD Ryzen 5000H (Cezanne, Zen 3), will be held after the CES 2021, so ASUS, perhaps, simply had no choice in favor of one or the other processors. By the way, there will also be quad-core Intel Tiger Lake-H35 processors with lower TDP on the market. These processors will be available in some laptop models, but they are not ideal for gaming systems. For this reason, most notebook makers will continue to release laptops based on the current 10th generation Intel Comet Lake-H chips and the latest GeForce RTX 30-series graphics for some time to come.
An additional interesting feature of the ASUS ROG Strix gaming laptop based on the Ryzen 5000 will be support for 2K screen resolution (2560 × 1440 pixels) and refresh rates up to 165Hz. For a long time, gamers have had to compromise by choosing laptops with 1080p resolution and refresh rates of up to 360Hz or 4K resolution options with a low refresh rate of 60Hz. The golden mean in the form of QHD screens with high refresh rates could prove to be a very popular solution among gaming laptops in the coming year.