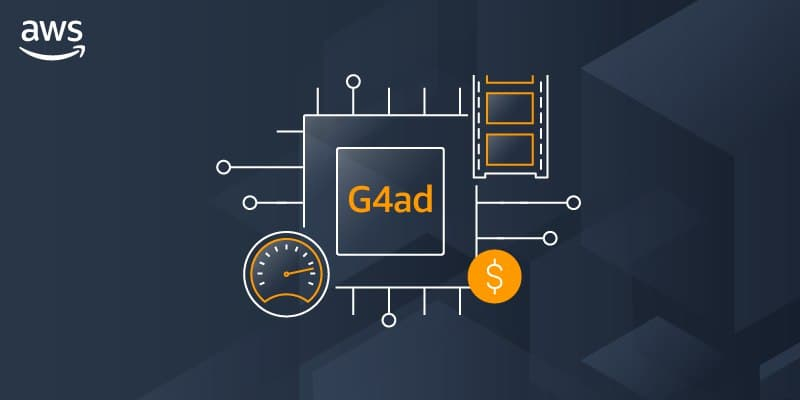 Steve Roberts of Amazon Web Services (AWS) announced that new Amazon Elastic Compute Cloud (EC2) instances in the G4 family of instances will soon be available to improve performance and reduce the cost of graphics-intensive workloads such as game streaming, animation and video rendering. Prior to that, the company's most cost-effective GPU-based instance in EC2 was the G4dn instance, released in 2019 and equipped with NVIDIA T4 gas pedals. The G4ad instances use the latest AMD Radeon Pro V520 GPUs and 2nd generation EPYC processors, and are the first EC2 instances to feature AMD GPUs. They are ideal for deploying machine learning models in a production environment as well as for graphics intensive applications. Three sizes of instances are available: from G4ad.4xlarge with 1 GPU to G4ad.16xlarge with 4 GPUs as listed below. Compared to G4dn, the new G4ad instances are up to 45% better price-performance for graphics-intensive workloads, including the game streaming mentioned above, remote graphics workstations, and rendering scenarios. Compared to a G4dn instance of the same size, G4ad instances provide up to 40% better performance.
It should be noted that G4dn instances will still be the best option for machine learning (ML) on a small scale and for inferance tasks thanks to tensor cores. In addition, G4dn instances will continue to be best suited for applications that require access to NVIDIA libraries such as CUDA, CuDNN, and NVENC. However, when there is no dependence on NVIDIA libraries, AWS recommends that customers try the G4ad instances to take advantage of the best price to performance ratio. AMD Radeon Pro V520 GPUs support DirectX 11/12, Vulkan 1.1 and OpenGL 4.5 APIs. As operating systems, customers can choose from Windows Server 2016/2019, Amazon Linux 2, Ubuntu 18.04.3 and CentOS 7.7. G4ad Stants will be available as reserved or spot instances with time-based tariffing. New G4ad instances will soon be available in US East (North Virginia), US West (Oregon) and Europe (Ireland).
Next «iron » announcement for Intel Xeon based instances; company has announced the launch of M5zn instances to be offered in seven sizes. They use special processors Cascade Lake, all cores which can operate at a steady frequency up to 4.5 GHz. M5zn is a kind of general purpose M5 instance and is based on the Nitro System. These instances are equipped with 100G network with low latency and Elastic Fabric Adapter (EFA) to improve performance in high-performance computing and data-intensive applications. All M5zn instances are listed in the table below.
The Nitro hypervisor allows M5zn instances to deliver performance virtually indistinguishable from bare-metal instances. Other AWS Nitro System components such as Nitro Security Chip and EBS hardware processing improve performance, while VPC encryption provides more security. New instances are already available in a number of US regions, as well as in Europe (Ireland and Frankfurt) and Asia (Tokyo). In addition, AWS announced the addition of C6gn instantiators to Graviton2's Arm Chips-based portfolio, which provide up to 100 Gbps of network bandwidth, up to 38 Gbps of EBS volumes, up to 40% improvement in packet processing performance, and up to 40% improvement in price/performance ratio over comparable x86 processors. C6gn will be available in 8 sizes: