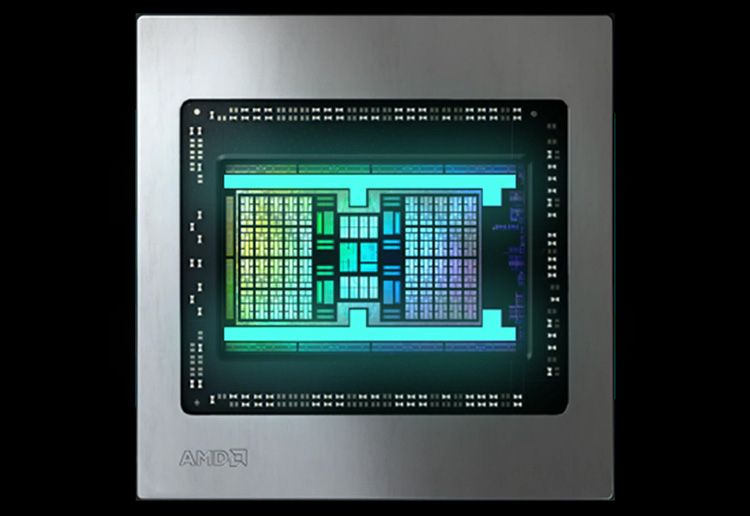 Specifications and additional information about the AMD Navi 23 graphics processor were published by Igor Wallosek, editor of the German resource Igor'sLAB. It is expected that Navi 23 will form the basis of the graphics card RX 6600M, which will be the successor to Radeon RX 5500M, based on the chip Navi 14.
Earlier it was reported that mobile gas pedals based on Navi 23 will be characterized by the TGP (Total Graphics Power) power consumption targets of 65, 80 and 90W. In turn, desktop versions of graphics cards with this GPU can be released and with higher TGP rates. The chip itself will include up to 32 blocks of CU (2048 stream processors).
AMD Navi 23 graphics processor scheme, source: Igor'sLAB
According to Igor Vallosek, the Navi 23 GPU will support a 128-bit memory bus and will be complemented by eight GDDR6 modules (4 GB or 8 GB of video memory expected). The GPU supports the DirectX 12_1, Vulkan 1.1, OpenGL 4.6 and OpenCL 2.2 APIs. It is claimed that Navi 23 also supports Liquid VR, a set of technologies for virtual reality.
AMD Navi 23 GPU layout, source: Igor'sLAB
According to the informant, this GPU will support a total of 5 outputs on the external display, including DisplayPort, HDMI 2.1 and even USB Type-C. As for video encoding, the GPU supports VP9, HEVC, H.265, VC1 decoders as well as all RDNA 2 solutions. The GPU also supports PCI Express 4.0 x8 interface. Maximum declared Navi clock frequency 23 in mobile version; 2350 MHz.
AMD Navi 23 specifications, source: Igor'sLAB
Also informant Patrick Schur has published in Twitter preliminary specifications of Navi 22 graphics processor for mobile video cards. This can be released in mobile graphics card Radeon RX 6700M. It is reported that the crystal size of this chip is 334.54 mm2, which is noticeably smaller than the Navi 21 (520 mm2). Unlike Navi 21, which offers up to 80 processing units (5120 stream processors), Navi 22 can offer up to 40 CU (2560 stream processors). However, it is not clear how much CU will be involved in the mobile version of this processor.
Comparative characteristics of Navi 24, Navi 23 and Navi 22, source: VideoCardz
According to the source, two versions of Navi 22 should be expected. The first variant has TGP 146 W, which is quite a lot for a mobile video card. There will also be 192-bit bus in mobile and desktop versions, and the number of video memory will be 6 or 12 GB of GDDR6 video memory. The second option will be offered with three TGP settings: 90, 110 and 135 W. It will get an unusual bus of 160 bits and will be equipped with 5 or 10 GB of video memory GDDR6.
AMD Radeon RX 6000M (Navi 22 Mobile) voltage regulator manual, source: Patrick Schur
Navi 22 (Mobile) NV22 TBD: - 146 W TGP - 190-bit wide memory interface (up to 6 memory chips) NV22 TBD: - 90 / 110 / 135 W TGP - 160-bit wide memory interface (up to 5 memory chips) Die Size: 18.31 mm × 18.27 mm ≈ 334.52 mm ² Package: 40 mm times; 40 mm times. & ; Patrick Schur (@patrickschur_) December 6, 2020
Also last days rumors were heard about mobile gas pedals based on Navi 24 chip with RDNA 2 architecture. It was claimed that two variants of video cards are being prepared: the first one with configurable levels of TGP of 35, 42.5 or 50 W, and the second one with TGP of 25 W. The number of CU blocks and stream processors in this chip is not reported.
Navi 24 (Mobile) NV24 XM: 35 / 42.5 / 50 W cTGP NV24 XML: 25 W TGP & ; Patrick Schur (@patrickschur_) December 4, 2020