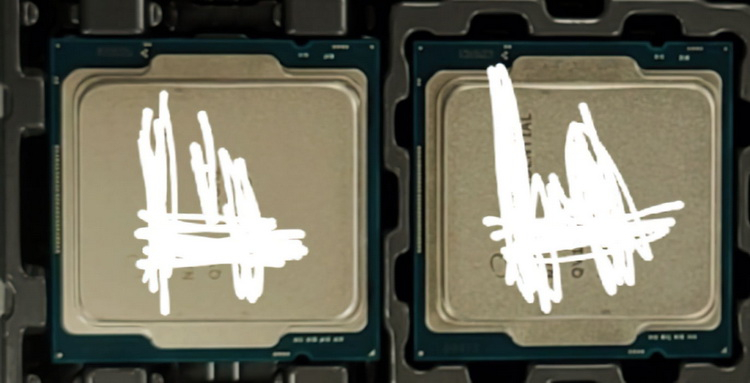 Internet detective Tum_Apisak found the first performance results of the flagship processor Intel Core i9-11900K (Rocket Lake-S) in the game test Ashes of the Singularity. They indicate only the base chip frequency, which is 3.5 GHz, which is 200 MHz lower than the base frequency of the current flagship Intel Core i9-10900K generation Comet Lake-S.
According to official Intel information, the future flagship of the Rocket Lake-S family is equipped with eight cores and sixteen virtual streams. Intel Core processors of the 11th generation are based on the new architecture of Cypress Cove cores. Against the background of the older model Comet Lake-S new flagship Intel has lost 2 physical and four virtual cores. But instead, the novelty will be able to offer a noticeable increase in IPC (number of executable instructions per stroke), which compensates for performance differences in multithreaded tasks and, hopefully, will offer an even higher level of single-core performance. Checking Intel Core i9-11900K in the game test Ashes of the Singularity was carried out with the settings of the graphics "Crazy" at resolutions 1920 × 1080, as well as 2560 × 1440 pixels. In the first case, the processor showed a result of 6400 points at an average of 64.7 frames per second, in the second case, it scored 6200 points and showed an average of 62.7 frames per second. One of the owners of the Ryzen 9 5950X flagship shared the chip's performance results in the same test and pointed out that at 1080p, the AMD processor achieved 7100 points at an average of 72 frames per second. Thus, the Ryzen 9 5950X was 11% faster than the Core i9-11900K in this particular game test. It should be noted that behind the flagship AMD is an advantage in the form of twice as many physical and virtual cores.
Rocket Lake family chips will be the first Intel processors to offer support for PCIe 4.0 interface used by modern graphics gas pedals and storage systems. The new generation of processors will be able to work with current motherboards based on 400-series system logic, equipped with a processor connector LGA 1200. However, with the release of new processors, Intel will also present a new generation of 500-series chipsets. Announcement of both products is expected in the first quarter of 2021.