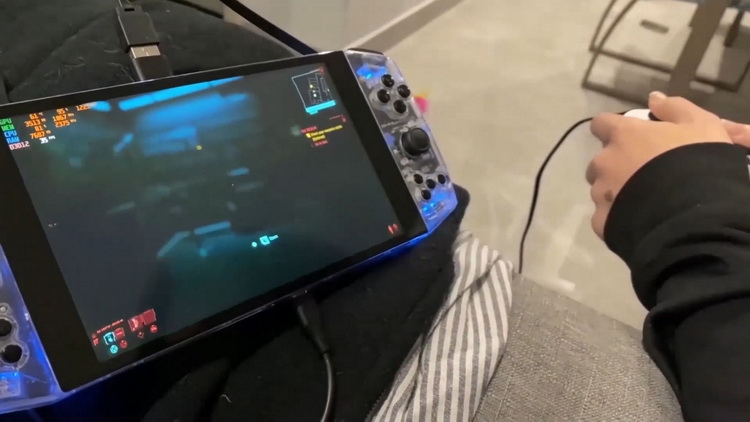 Chinese company Aya has shown that on its portable gaming console Aya Neo based on a hybrid Ryzen 5 4500U processor (Zen 2, Renoir) it will be possible to play Cyberpunk 2077. In the published video the console was able to demonstrate performance at 28–36 frames per second.
As in the video contains adult content, we can not publish it in this article. But, most likely, we are talking about the minimum values of image quality.
Recall that the Aya Neo is equipped with a 7-inch IPS-display, which has a resolution of 1280 × 800 pixels, which is standard for most mid-priced tablets. Since the console has no discrete graphics gas pedal, for rendering images on the screen responsible six cores Radeon Vega, integrated six-core processor Ryzen 5 4500 (up to 4 GHz) and running at 1500 MHz. It should be noted that the designated chip is far from the most productive solution in the AMD Renoir series and is equipped with not the most productive integrated graphics. The processor is claimed to have a configurable TDP from 10 to 15 watts. The chip is assisted by 16 GB RAM of LPDDR4-4266 standard.
The video description also states that the 47W·h battery of the console is enough for about 2.5 hours of playing Cyberpunk 2077. The Aya Neo is already available for pre-order in China. Unfortunately, the manufacturer has not yet said whether it intends to release the console to the global market. The price of the device is set at 3999 yuan ($605) for the Founders Edition version with 512GB of SSD. The 1TB model will be offered for 4,599 yuan ($756).