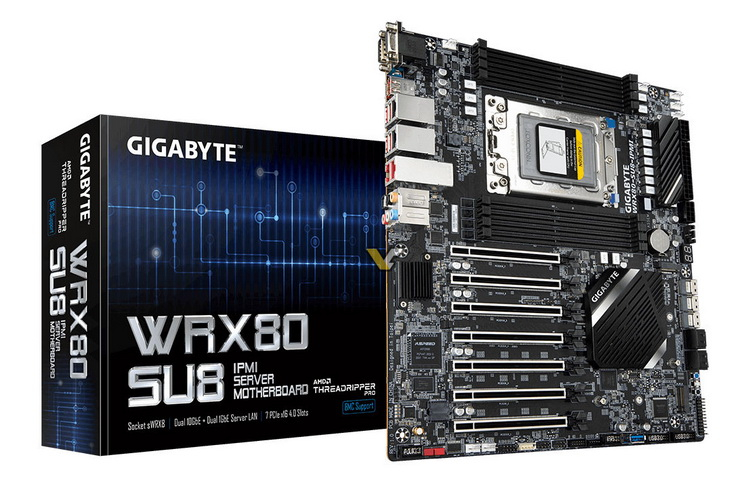 This July AMD has announced Ryzen Threadripper PRO series processors, sWRX8 processor socket and its own WRX80 chipset. At the time of the announcement it was said that at first the chips of new series will not be available for public sale. The only company Lenovo will distribute ready-made systems based on them. It seems that in the near future this exclusive agreement will come to its end.
According to VideoCardz resource, Lenovo ThinkStation P620 workstations use reference motherboard, developed by AMD itself. Now it turns out that other manufacturers are developing motherboard based on WRX80 chipset. Network sources shared an image of Gigabyte WRX80 SU8 motherboard, which is designed specifically for Ryzen Threadripper PRO processors. There are four models of this powerful workstation series, with 12 to 64 cores and TDP 280W. The main features of this new series of CPUs are the support of up to 128 PCI Express 4.0 lines, as well as the ability to work with up to 2 Tbytes of RAM, which can be connected via eight channels; Unfortunately, Gigabyte WRX80 SU8 motherboard official specs have not been released by image sources. However, when visually comparing it to the Lenovo ThinkStation P620 reference workstation board, it can be noted that the latter has fewer PCIe x16 slots available.
Lenovo ThinkStation P620
Lenovo ThinkStation P620.
At the moment, it is also unknown when the Gigabyte WRX80 SU8 board will be officially introduced and how much it is estimated by the manufacturer.