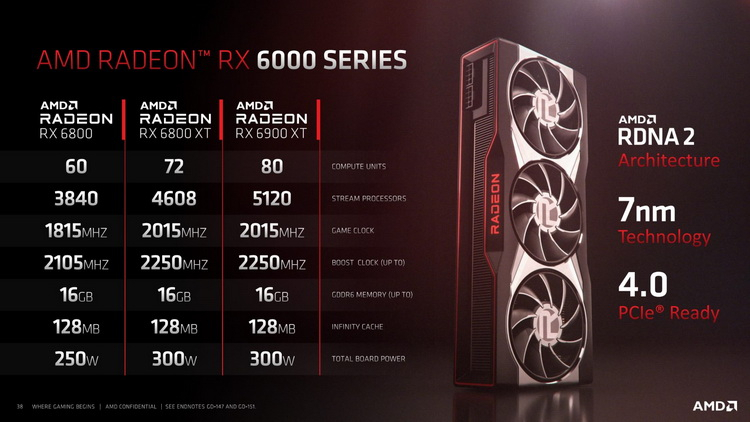 There are only a few days left before AMD officially launches its fastest Radeon graphics card of the Big Navi family. The results of Radeon RX 6900 XT were found in the Geekbench OpenCL test database, and they suggest that this will be a very fast gas pedal.
With a score of 169,779 in Geekbench OpenCL, the graphics card was 12 % faster than the RX 6800 XT and 35 % faster than the RX 6800. Interestingly, the Radeon RX 6900 XT has 11 % more stream processors than the RX 6800 XT and 33% faster than the RX 6800, so there is almost linear performance scaling. The RX 6900 XT is still behind the NVIDIA GeForce RTX 3080 and RTX 3090, which are 4 % and 19 % faster respectively in this test.
The AMD Radeon RX 6900 XT is a complete model on a Navi 21 XTX chip with 80 processing units (5120 stream processors). Like the other two Navi 21 based models, the older Radeon RX 6900 XT comes with 16GB of GDDR6 memory and uses a 256-bit bus. And the lack of bandwidth is compensated for by the 128MB Infinity Cache.
Radeon RX 6900 XT has frequencies similar to the RX 6800 XT: the base clock frequency is 2015 MHz and the Boost frequency is 2250 MHz. These values are given to the chip easily, so most affiliate cards should get better results due to factory overclocking. The model has the same power limitation as the RX 6800 XT & ; 300W.
AMD is going to release the Radeon RX 6900 XT graphics card already on December 8th. This model has a recommended price of $999 in the US, which is 1.5 less than the GeForce RTX 3090. However, you can hardly expect to simply buy it for such an amount of & ; as with the rest of the RDNA 2 graphics cards, the prices will be much higher in the coming months due to a shortage of supply.