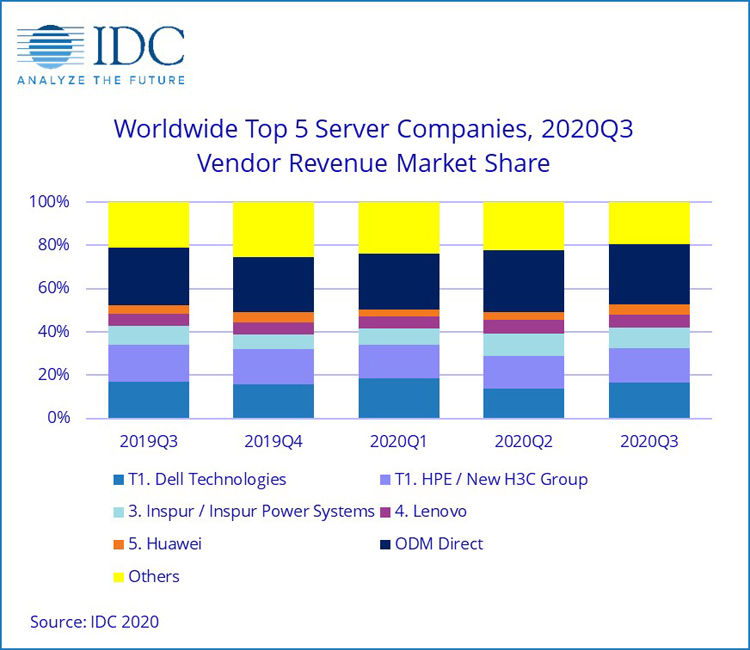 International Data Corporation (IDC) has provided statistics on the global server market for the third quarter of this year: amid the ongoing pandemic and difficult economic situation, the industry has shown mixed results. Vendor revenue for the quarter increased 2.2 % to $22.6 billion, while the base systems segment saw a 5.8 % & ; up $19.0 billion. Midrange server shipments decreased 13.9 % to $2.6 billion, while high-end systems saw a 12.6 % & ; decrease to $937 million.
Dell Technologies leads the top vendor ranking with a 16.65 % share in monetary terms. HPE/New H3C Group followed with 15.94 %, and Inspur/Inspur Power Systems rounded out the top three with 9.37 %.
Looking at the industry on an item basis, shipments were down 0.2 % year over year & ; to 3.07 million units. Dell Technologies is also the leader with 16.39 %. HPE/New H3C Group is on the second place with 13,87%, lquo;bronze went to Inspur/Inspur Power Systems with 9,66 %.
Analysts also note that, on an annualized basis, quarterly revenue from sales of servers on AMD processors rose by 112.4 %, and on ARM chips soared by 430.5 %;