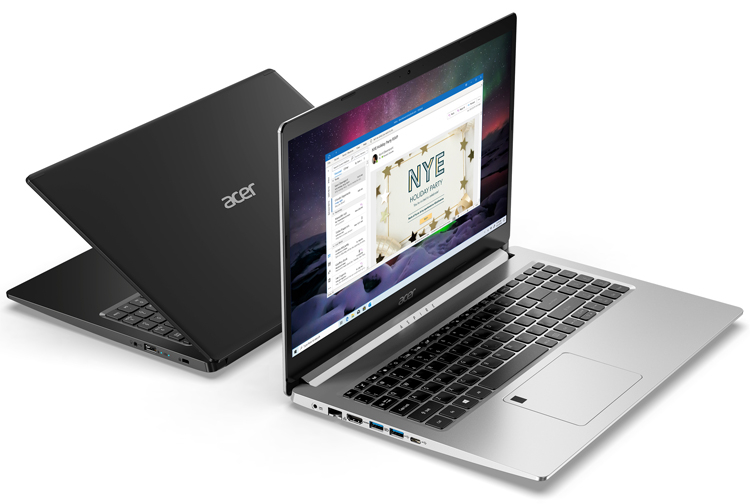 The Aspire 7 and Aspire 5 notebooks are the next generation of notebooks to be unveiled by Acer at CES 2021, with the announcement of the new generation of notebooks, designed for mainstream use.
The foundation of these laptops is the AMD Ryzen 5000 chip. Display with diagonal of 15.6 inches has a resolution of 1920 × 1080 pixels, which corresponds to the format Full HD. The Aspire 5 notebook family can carry up to 24GB of RAM and the AMD Radeon RX 640 graphics accelerator handles the graphics. An M.2 PCIe NVMe SSD with up to 1TB capacity and/or a hard drive with up to 2TB capacity can be installed.
On the other hand, the Aspire 7 notebook PCs support up to 32GB of RAM. Graphics support includes an NVIDIA GeForce GTX 1650 graphics card. And there's fast SSD storage of up to 1TB.
All new models come with dual-band Wi-Fi 6 (802.11ax) and USB Type-C connectivity. The cooling system features multiple modes to ensure maximum performance in any environment with minimal noise.
The «Acer Aspire 5 and Aspire 7 & ; are powerful all-rounders in a sleek design. It's perfect for power users looking for performance, screen quality, low weight and long battery life," the developer said. The Aspire 7 Series notebooks will arrive in Russia in the second quarter of 2021 with prices starting at RUB 59,990. The Acer Aspire 5 laptops will be available after the third quarter, but pricing has not yet been disclosed;