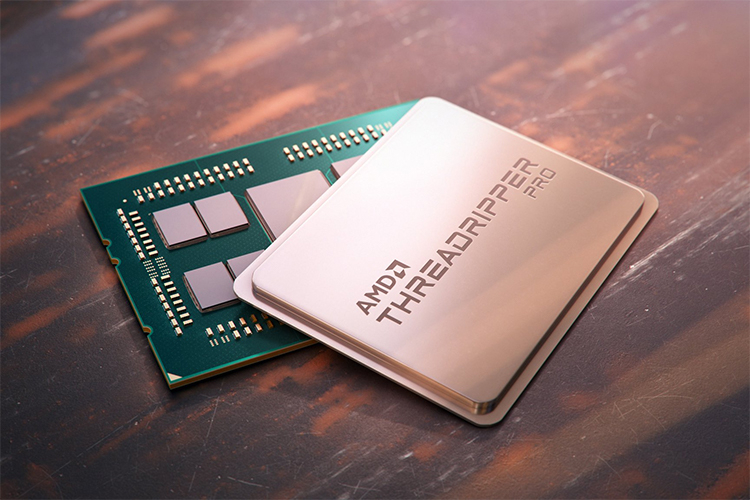 In the middle of last year, AMD announced Ryzen Threadripper Pro processors designed for high-performance workstations produced by the company's partners. It was announced today at the CES 2021 event that such processors will soon be available for purchase for casual enthusiasts.
Many were expecting from AMD's presentation today the announcement of Threadripper HEDT processors based on the new Zen 3 architecture, but that didn't happen. The situation with supply of Zen 3 semiconductor chips remains very tight, so for now AMD has refrained from releasing CPU models, which would consume a large number of CCD chips at once. Instead, the company has re-released the old Threadripper Pro 3000 processors on the Zen 2 architecture, which were actually introduced back in July last year. Threadripper Pro 3000 processors – are not the same Threadripper 3000 processors that have been available to enthusiasts for a long time. They exist within a different, more advanced sWRX8 platform, which features support for eight-channel DDR4 memory (both conventional UDIMMs as well as RDIMMs and LRDIMMs) and 128 PCIe 4.0 lanes instead of the four memory channels and 64 PCIe 4.0 lanes of conventional Threadrippers. The extended memory and PCIe 4.0 controller capabilities are due to the Threadripper Pro's use of the full featured I/O chiplet from the EPYC (Rome generation) processors. Meanwhile, we should realize that we are still talking about processors based on the old architecture, while the modern Zen 3 architecture with 8-core CCX and increased IPC rate is likely to be available to users of high-performance workstations for a long time to come. The Threadripper Pro lineup available to consumers will be slightly different in composition from the set of CPUs available to system manufacturers. AMD has decided to offer enthusiasts only three models with 16, 32 and 64 cores, denying them access to the 12-core.
ModelNumber of cores/threadsMax./Base frequency (GHz)L3-cache (Mbytes)TDP (W)
AMD Ryzen Threadripper PRO 3995WX 64C/128T Up to 4.2 / 2.7GHz 256 280
AMD Ryzen Threadripper PRO 3975WX 32C/64T Up to 4.2 / 3.5GHz 128 280
AMD Ryzen Threadripper PRO 3955WX 16C/32T Up to 4.3 / 3.9GHz 64 280
Leading motherboard manufacturers will release special motherboards with sWRX8 CPU socket for Threadripper Pro processors, which will be based on WRX80 chipset. Images of such boards have already flashed on the web.
ASUS WS WRX80 SAGE motherboard. Source: videocardz
As promised by AMD, Threadripper PRO processors will now be available to consumers directly through retailers and online retailers. It is expected to go on sale by March 2021.