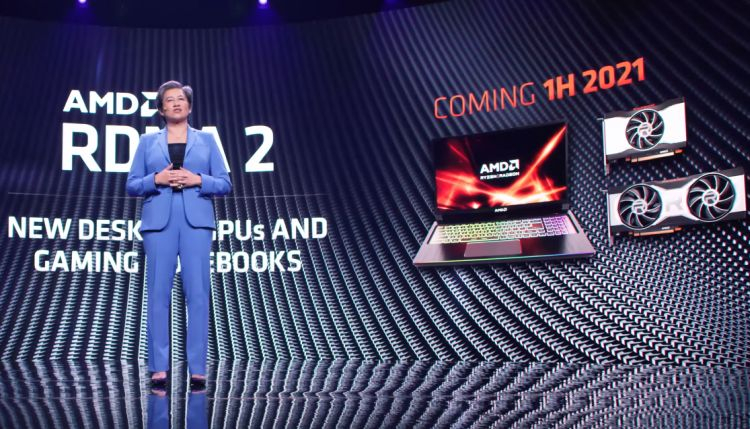 During her speech at CES 2021 AMD CEO Lisa Su talked a lot about the high pace of expansion of notebooks based on the processors of the brand, but about the plans to update mobile graphics solutions she mentioned briefly. According to her, RDNA 2 generation discrete graphics will make its way into laptops as early as this half of the year, but that's where all the details ended.
Image source: AMD, YouTube
It is quite predictable that the public attention was more attracted by that part of the slide from AMD presentation, where they talked about RDNA 2 architecture range expansion and gave some sketches with outline of new graphics cards of Radeon RX 6000 family. The mobile portion of the range has been undeservedly forgotten as a result, but for the gaming industry it is no less significant, especially in light of the recent debut of NVIDIA's GeForce RTX 30 series mobile graphics adapters. Now AMD's honor in the segment of mobile discrete graphics solutions family Radeon RX 5000M, which were presented the year before last but already offered the first generation RDNA architecture combined with GDDR6 memory size from 3 to 8 GB. In the first half of this year, as Liza Su made clear, discrete graphics solutions with RDNA 2 architecture will appear in the mobile segment, which will help to bridge the gap between AMD's mobile and desktop graphics segment in terms of adoption of advanced architectures. During the AMD CEO's presentation, one of the future mobile graphics solutions was demonstrated running the game Dirt 5 at 1440p resolution at ultra-high image quality settings. The scene refresh rate almost never dropped below 60fps. AMD partners are expected to unveil their respective notebooks by the end of this half-year.