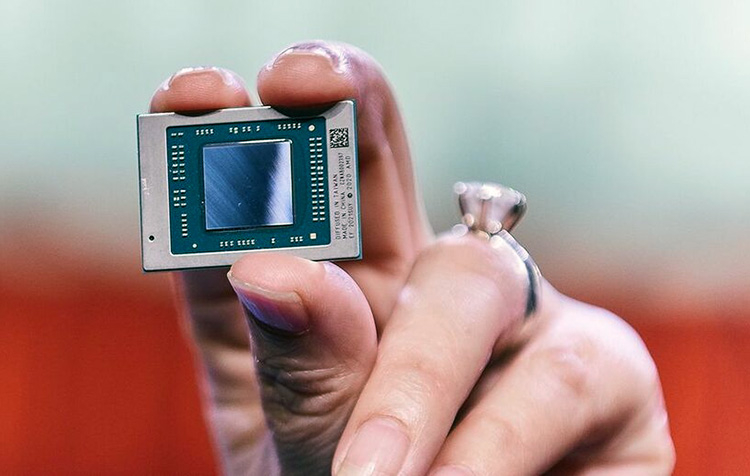 AMD has promised to make impressive strides in gaming laptops this year, and so far, judging by the range of gaming laptops available for order or pre-order, the trend is indeed showing.
Video blogger GizmoSlipTech has compiled a list of gaming laptops with GeForce RTX 30-series accelerators that are available for purchase or pre-order. As of January 15, 28 of these laptops are based on Intel processors and 13 & ; based on AMD processors. That is, AMD owns quite a respectable share of 32 % of gaming laptops versus 68 % for Intel. But the list doesn't include several announced, but not yet released models like Lenovo Legion and Alienware m15 and m17, and also ASUS ROG Zephyrus G14, TUF 15 and TUF 17. Recall that Lenovo and ASUS models are based on AMD Ryzen, and Alienware & ; on Intel Core. Considering these models AMD share is already 36 % vs. 64 % from Intel.
AMD processors share among 2021 gaming notebooks (as of January 15)
Of course, Intel Core still dominates the models, but the dynamics are clear. In a similar selection in 2020, Intel accounted for 85 % of notebooks with GeForce RTX 20 or GeForce GTX 16 series gaming graphics cards.
Similar graph for 2020
AMD's key achievement & ; the emergence of notebooks where its processors are used in conjunction with high-end graphics cards like GeForce RTX 2070 or RTX 2080. In the days of the Ryzen 4000, the best AMD could have hoped for & ; was GeForce RTX 2060 graphics. AMD and notebook makers on this occasion explained that they were initially cautious in their predictions and didn't expect much demand for AMD processors in flagship gaming notebooks.
AMD's share of 2021 flagship gaming notebooks
Things are looking up for AMD this year. As many as nine laptops now use the Ryzen 5000 bundled with the GeForce 3070 or GeForce 3080 (up from zero last year). And that's just the start of the year & ; perhaps 2021 really will be AMD's stellar time in the mobile gaming PC market.
In 2020, AMD processors in flagship gaming laptops simply weren't there
Of course, it's one thing & ; announced models, and quite another & ; the actual number of systems sold. But while high-end laptops with AMD processors are selling out like hotcakes & ; supply is clearly not keeping up with demand. So the chances of success are very high.
Gaming notebook graphics accelerator manufacturers' shares
But the real dominance of high-end gaming notebook market is not Intel or AMD at all, but NVIDIA & ; the power of the latter is undivided, that is literally 100 %. AMD introduced several Radeon mobile graphics cards last year, but it's impossible to buy them in a real gaming notebook. And now the situation is exactly the same. But with RDNA 2 in 2021 AMD might start to change the situation in this area.