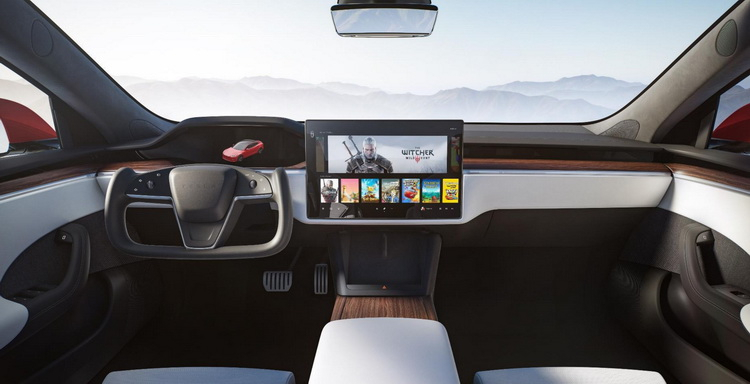 Renowned whistleblower Patrick Schur posted on Twitter a flowchart explaining how the upgraded Model S electric car's onboard computer will be able to run such graphically demanding video games as «The Witcher 3», Cyberpunk 2077 and many others.
According to the diagram, the new Model S electric cars' entertainment system, which is likely to also act as a navigation system, will use the AMD Navi 23 GPU.
The diagram indicates that the graphics subsystem will be equipped with 16Gb (2GB) GDDR6 memory chips from Samsung (K4ZAF325XM). There will be four such memory modules. Thus, the total amount of video memory of the Model S on-board computer will be 8GB.
The chart also reports that the 14 Gb/s video memory will feature 128-bit bus support, for a maximum throughput of 224 Gb/s, similar to what's possible in Xbox Series S consoles. Additionally, Tesla will have two DisplayPort and one HDMI connector for connectivity to in-vehicle monitors, as well as a PCIe Gen4 x8 interface for connectivity to other cards.
According to Tesla itself, the onboard computer of the new Model S will be able to provide up to 10 Tflops of processing power, which is almost equivalent to the performance of a PlayStation 5 game console. To do that, the 32 GPU Navi 23 processing units with 2048 stream processors would have to run at a minimum of 2.44 GHz.