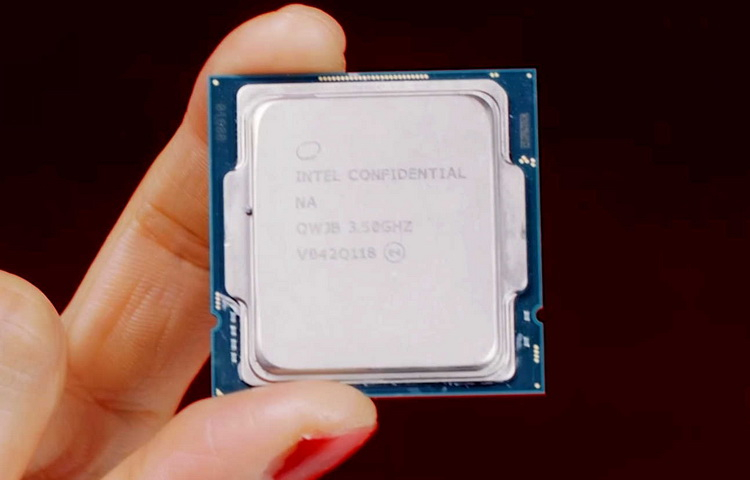 Chinese enthusiast conducted a comparative gaming test of Intel Core i9-11900K (Rocket Lake-S) processor qualification sample, recently noted AMD Ryzen 7 5700G Cezanne hybrid engineering sample, as well as Ryzen 7 5800X. Despite the fact that the chip «blue» was faster than AMD solutions in synthetic tests, in games it disappointed with its performance.
Intel Core i9-11900K model will be the future flagship of the desktop series of Rocket Lake processors. The processor has eight physical cores capable of processing 16 virtual threads, and has 16 MB of total L3 cache memory and 4 MB of L2 cache memory (512 Kbytes per core). The processor has a base frequency of 3.5 GHz. In Turbo mode, it can go up to 5.2GHz per core or up to 4.8GHz for all cores. The chip supports Thermal Velocity Boost, which adds another 100 MHz to the maximum frequency. Thus, one processor core is able to automatically overclock up to 5.3 GHz. Traditionally for Intel flagships the nominal TDP value of the processor is 125W (PL1) and maximum TDP level is limited by 250W (PL2). According to a Chinese enthusiast who conducted the tests, the Intel Core i9-11900K qualification sample ran on a motherboard with Z590 chipset, equipped with the final version of the BIOS, which will be available at the time of the board sale. The fresh firmware increases the performance of the Rocket Lake-S qualification sample, but in some cases the chip still showed instability, especially when trying to overclock manually. This manifested itself in crashes and lquo;blue screens of death» during tests. It is likely that by the time the launch of chips Intel Core 11-th generation motherboard manufacturers will release a more stable firmware.
As for the early AMD Ryzen 7 5700G engineering sample we talked about yesterday, it ran on a Gigabyte X570I Aorus Pro board. The desktop hybrid Ryzen 7 5700G uses 8 physical cores and 16 virtual threads and clocked at 4.45GHz. Since it's an engineering sample, several of its features including integrated Radeon Vega graphics were blocked via BIOS. The AMD Ryzen 7 5700G and Ryzen 7 5800X processors used PBO mode during the tests. And Intel chip worked with manual overclocking up to 5.2 GHz on all cores. In synthetic tests except for single threaded Cinebench R15 sample Intel Core i9-11900K was faster than both AMD processors; Intel Core i9-11900K, AMD Ryzen 7 5700G and Ryzen 7 5800X results in Cinebench
In gaming tests, the picture wasn't as clear-cut. Despite the huge frequency advantage as a result of manual overclocking up to 5.2GHz on all cores, Intel Core i9-11900K barely equaled the same eight-core Ryzen 7 5800X, and in some games even yielded to it. The screenshots of the gaming tests and the graph with the average performance level of three processors can be found below. Game results of Intel Core i9-11900K, AMD Ryzen 7 5700G and Ryzen 7 5800X
Again, it should be recalled that the Intel Core i9-11900K and AMD Ryzen 7 5700G results are based on engineering samples. The final performance level of both processors is very likely to be higher. But hardly so much so that Intel Core i9-11900K will be able to compete with the flagship Ryzen 9 5950X solution in the same games, especially if AMD considers lowering the prices of its Zen 3-based desktop solutions by mid-2021.