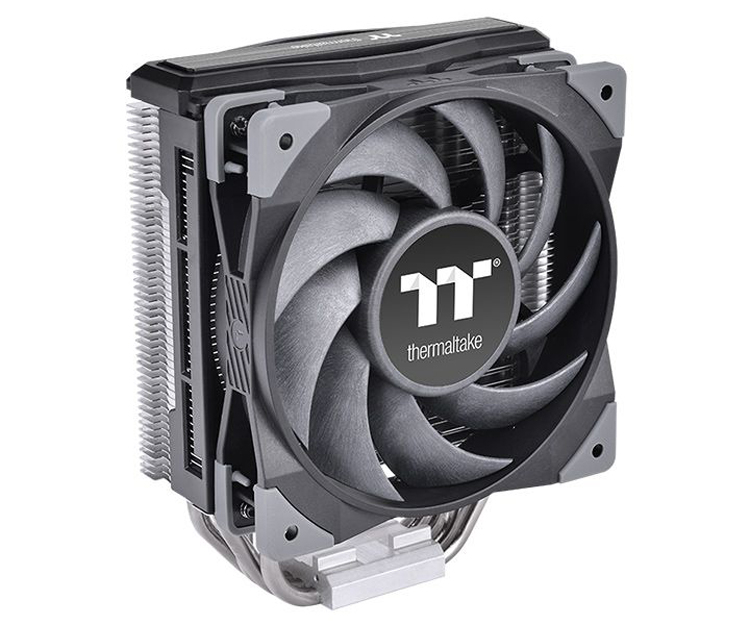 Thermaltake has expanded its range of all-in-one CPU coolers with the ToughAir 310 and ToughAir 510, suitable for chips with TDP up to 170W and 180W, respectively.
The products are tower-type. The classic design features an aluminium heatsink, through which four 6mm diameter copper U-tubes run. They are in direct contact with the processor cover, which contributes to improved heat dissipation.
The ToughAir 310 is equipped with one 120mm fan, the ToughAir 510 & ; two. The fan speed is controlled by Pulse Width Modulation (PWM) in the range of 500 to 2000 rpm. Airflow volumes of up to 100 cubic metres per hour are generated, and the noise level does not exceed 23.6 dBA.
The coolers can be used with AMD AM4/AM3+/AM3/AM2+/AM2/FM2/FM1 and Intel LGA 1200/1156/1155/1151/1150 CPUs. Claimed fan life & ; up to 40k hours. The ToughAir 310 measures 123.6 × 71.7 × 159.5mm, the ToughAir 510 version & ; 123.6 × 98.8 × 159.5mm. No indication of an approximate price at the moment;