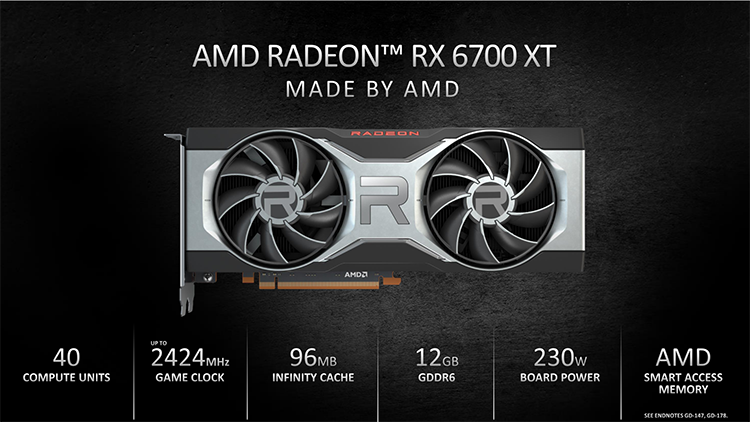 As promised, AMD today unveiled the mid-range Radeon RX 6700 XT graphics card, which is focused on 1440p gaming. Sales of the new product will start on March 18.
Like other graphics cards of Radeon RX 6000 series, new Radeon RX 6700 XT is based on 7-nm RDNA 2 architecture, equipped with high-speed Infinity Cache of 96 MB and 12 GB of GDDR6 video memory. The Navi 22 GPU used in Radeon RX 6700 XT features 40 processing units (2560 stream processors) running at 2424 MHz (Game Clock) with an overclock speed of up to 2581 MHz (Boost Clock). The video memory has an effective frequency of 16 GHz and 192-bit bus. The estimated heat dissipation of the graphics card is 230W.
According to AMD, Radeon RX 6700 XT in 1440p resolution is able to offer twice the gaming performance compared to graphics cards of the previous generation such as GeForce GTX 1070 Ti, as well as frame rate over 165 FPS in cybersports disciplines. In addition, AMD promises a performance advantage over both the GeForce RTX 3060 Ti and GeForce RTX 3070. «Today's games are demanding more computing power than ever to provide gamers with an immersive experience, & ;said Scott Herkelman, corporate vice president and general manager of the graphics division at AMD. & ; AMD's Radeon RX 6700 XT graphics card & ; is the best solution for 1440p gaming. For the majority of gamers who are still gaming on three to four year old graphics cards, it's & ; the perfect upgrade to deliver incredible image quality and uncompromised gaming performance at maximum 1440p» settings.
The Radeon RX 6700 XT will go on sale in two weeks & ;March 18. In addition to the reference variant will be available & ;  AMD partners ASRock, ASUS, Gigabyte, MSI, PowerColor, SAPPHIRE and XFX. The recommended price of the novelty (in the reference version) is set at $479. As we were confirmed by the local AMD representative office, sales of Radeon RX 6700 XT in Russian market will start simultaneously with the rest of the world.