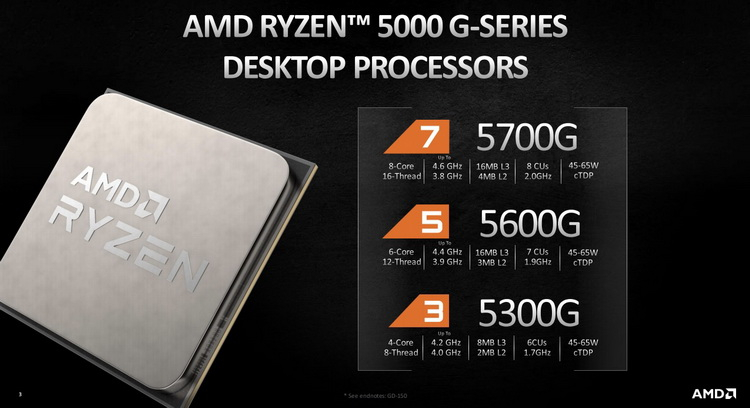 AMD has officially unveiled its Ryzen 5000G series of hybrid desktop processors with integrated graphics. It includes six models: the eight-core Ryzen 7 5700G, the six-core Ryzen 5 5600G, the quad-core Ryzen 3 5300G, as well as their power efficient versions Ryzen 7 5700GE, Ryzen 5 5600GE and Ryzen 3 5300GE.
AMD claims the Ryzen 7 5700G is up to 38 percent faster in digital content creation tasks, up to 35 percent faster in everyday applications, and offers up to 80 percent more computing performance than the Comet Lake-S generation Intel Core i7-10700.
The manufacturer compares the six-core and quad-core Ryzen 5 5600G and Ryzen 3 5300G with the same six-core and quad-core Intel Core i5-10600 and Core i3-10300 models, respectively. Both novelties, according to AMD, also turn out to be faster than their competitors.
But for some reason the company does not compare new Vega graphics in Ryzen 5000G processors to Xe-LP graphics in 11th generation Intel Core processors (Rocket Lake-S), but compares it to «inline» 10th generation Core chips. Energy efficient versions of new AMD hybrid processors feature reduced clock speeds and claimed TDP level, which is 35W for all models. The Ryzen 7 5700GE processor runs in a 3.4 to 4.4 GHz clock speed range, the Ryzen 5 5600GE & ; 3.2 to 4.6 GHz, and the younger Ryzen 3 5300GE offers a base frequency of 3.6 GHz. In turbo mode it goes up to 4.2 GHz. According to Guru3D, AMD promises to release Ryzen 5000G series processors as standalone products later this year. However, more exact information is unknown yet. The official AMD website indicates that these chips will be available only as part of complete computer assemblies.