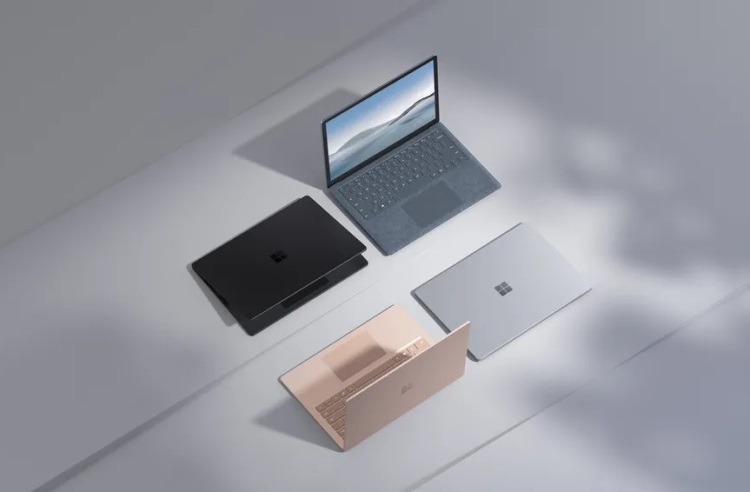 Microsoft has officially unveiled a new addition to the Surface family of devices. We're talking about the Surface Laptop 4, which comes in versions with 13.5- and 15-inch displays, each of which is available in both AMD and Intel processor versions. All versions will become available for purchase this month.
The design of Surface Laptop 4 is almost the same as the appearance of the previous generation model. The older version of the device has a 15-inch touchscreen display supporting a resolution of 2496 ×1664 pixels and an aspect ratio of 3:2. Buyers can choose between versions with Intel Core i7-1185G7 processor generation Tiger Lake and AMD Ryzen 7 4980U last generation on the architecture Zen 2. The younger version of the laptop has a 13.5-inch touchscreen display with 2256 × 1504 pixel resolution and a 3:2 aspect ratio. Buyers will also be able to choose between several options based on Intel and AMD chips, including the Core i7-1185G7 and Ryzen 7 4980U.
The manufacturer says that the use of new processors in Surface Laptop 4 has provided up to 70% more performance than the previous generation models, as well as increased battery life. Microsoft promises up to 19 hours of battery life for the 13.5-inch version of the laptop with AMD chip and up to 17.5 hours -for the 15-inch version. At the same time, the 13.5-inch version with Intel chip will provide up to 17 hours of continuous use, and the older model - up to 16.5 hours. All versions of the laptop on Intel have Intel Iris Xe graphics, and in the case of AMD - Radeon Graphics. Surface Laptop 4 with processor from Intel supports installation of up to 32 GB of LPDDR4x RAM, and versions with chip from AMD - up to 16 GB of RAM. As for the storage, the Intel models will provide up to 1TB of internal storage, and the AMD - up to 512GB.
Otherwise, the Surface Laptop 4 is similar to the previous generation model. The design includes USB Type-C, USB Type-A ports, a headphone jack and a Microsoft Surface Connect interface for charging. Thunderbolt support is still missing, and the M.2 NVMe SSD can still be easily removed from the slot on the back of the device. The Surface Laptop 4 will reportedly go on sale as early as April 15 in the U.S., Canada and Japan, priced from $999 for the AMD-powered model and from $1299 for the Intel-powered versions. The price difference is due in part to the fact that Microsoft used last generation AMD processors in the laptops.