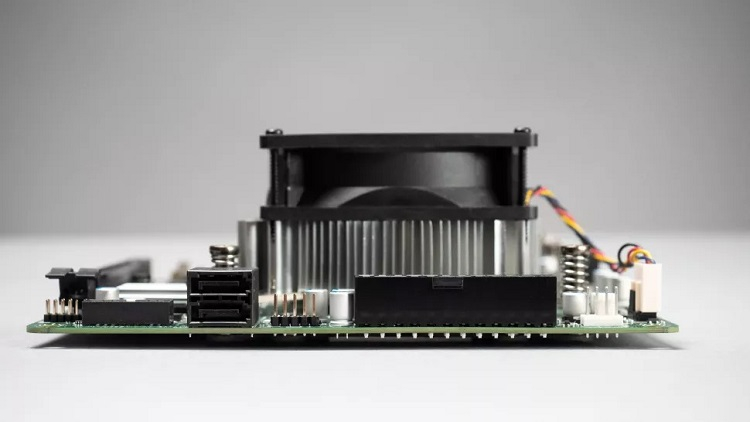 AMD has unveiled the 4700S desktop platform with an eight-core hybrid processor. It is based on an APU designed for the Xbox Series X gaming consoles, but has not passed the quality test. About the preparation of such a platform was known before, but now its characteristics have been published on the manufacturer's web site.
The AMD 4700S platform is a «integrated» solution & ; almost everything you need is included in a mini-ITX format motherboard & ; processor, memory and cooling system. The processor has eight cores on Zen 2 architecture. Ryzen brand does not apply to it, but it has long been known that it & ; eight-core sixteen-threaded model with disabled (or defective) integrated graphics processor. Although AMD itself does not name detailed characteristics of the APU, in the benchmark Geekbench 5 already appeared information that the novelty has a base frequency of 3.6 GHz and the maximum & ; up to 4 GHz. The platform will come with 8 or 16 GB of GDDR6 RAM (whose speed is also unknown). Since AMD 4700S has no display outputs, a discrete graphics card must be connected to the platform. Just like regular mini-ITX motherboards, AMD 4700S has a PCIe x16 slot, but in this case it has only four PCIe 4.0 lanes. This in particular means that the list of suitable graphics cards is very short: AMD 4700S is compatible with Radeon 550, RX 550, RX 560, RX 570, RX 580 and RX 590 as well as NVIDIA GeForce GT 710, GT 1030, GTX 1050, GTX 1050 Ti and GTX 1060.
Additionally, there are two SATA III ports for drives, a Gigabit Ethernet port on the Asix AX88179 controller and three 3.5mm audio ports. The board has four USB Type-A ports, three second-generation USB 3.2 Type-A (up to 10Gbps) and one first-generation USB 3.2 (5Gbps) adapter to add additional ports if needed. Power is supplied via standard EPS connections of 24 and 8 pins. AMD recommends a power supply of at least 250W, recommended power & ; 300W. Power supply requirements will vary depending on the needs of the graphics card. The company has provided drivers only for Windows 10 & ; the AMD 4700S kit is incompatible with earlier versions of Microsoft's OS, as well as Linux. No price has been announced on the manufacturer's website. AMD provides the platform with a two-year warranty. According to some reports, the variant is already available in a Finnish store for the equivalent of $317.