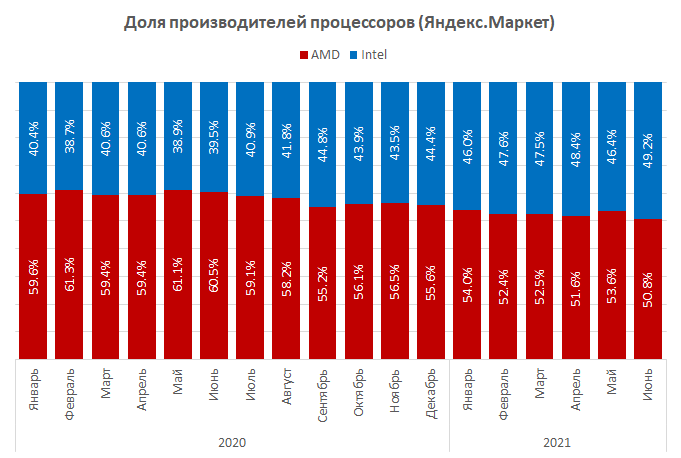 As it turned out, the slight growth of AMD's share in the Russian desktop processor market in May was purely a temporary phenomenon. According to price aggregator and marketplace Yandex.Market, in June the situation returned to its usual scenario – a systematic increase in the popularity of Intel offerings by several tenths of a percentage point per month. As a result, AMD's share in June dropped to 50,8 %, which for this company – is the worst result for the last three years.
Buyers' growing interest in Intel processors is primarily due to their better affordability. Different AMD offerings periodically disappear from shelves or are sold at inflated prices, and this situation is typical not only for Russian market, it is observed everywhere. However, AMD processors continue to confidently hold most of the top positions in the rating of the most popular desktop offerings, and the main stars in it are the six-core Ryzen. The Ryzen 5 3600 is in first place with a share of 8.4%, the newer Ryzen 5 5600X six-core CPU received a share of 5.6% in June and was in fourth place in terms of demand, and the available six-core Zen+ generation, Ryzen 5 2600, which is still on sale, was the fifth most popular with a relative share of 4.0%.
The six-core Intel Core i5-10400F is also in the top five, with its June result & ; 6.3% and third place. Last month it was not in the top 5, but now, thanks to a quite noticeable price drop of 12%, it is again among the best selling processors in Russia. It is also symptomatic that for the third month in a row one of the AMD processors with integrated graphics has invariably been in the top 5. Shortage of discrete graphics gas pedals and exorbitant prices of the existing offer pushes users to choose hybrid CPU models. Last month, the Ryzen 5 PRO 4650G, a member of the Renoir family, was in particular demand, but in June it began to run out of stock at retail, so customer interest shifted to the Ryzen 5 3400G of the earlier Picasso family.
Among other interesting trends, it is worth mentioning the deliberately low interest of Russian users to the latest Intel Rocket Lake processors. Having appeared on store shelves more than three months ago, they have not yet become any significant participants of the sales ranking. The most popular of the Core 11 generation & ; eight-core Core i7-11700K & ; processor boasts only 1.5% share, which does not allow it to rise above the 18th place in the ranks.