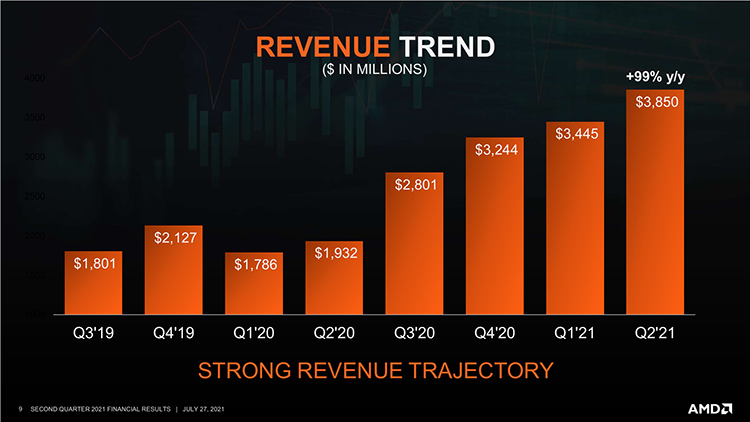 AMD has reported another record-breaking quarter. The company's revenue has continued to grow, unabated, since early 2020. AMD states strong demand for all categories of products it offers & ; CPUs, GPUs and semi-custom chips, which entails taking on new financial milestones and allows it to raise its outlook for the year's results.
AMD generated $3.85 billion in revenue in the second quarter of 2021, a huge jump from last year's second quarter results, when revenue was $1.93 billion. So the company nearly doubled its revenue for the year. Other figures look even more impressive: net income of AMD increased by 352% compared to the result of a year ago, and reached $710 million. Against the background of such numbers is not surprising and increase in gross profit, which reached 48% & ; it is 4 p.p. higher than a year ago, and 2 p.p. higher than gross profit in the last quarter.
Quarterly revenue in the graphics and computing area, which reports include sales of PC processors and all graphics cards, was $2.25 billion, up 65% from a year ago. Unfortunately, AMD didn't share details on the breakdown of that amount by segment, but did mention that sales of customer processors increased by double-digit percent over last year, and their average selling price is adding up in both quarterly and year-over-year comparisons. This indicates the growing popularity of expensive and high-margin components, and AMD separately emphasizes that the trend applies to both desktop and mobile chips. For example, the Ryzen 9 series processors have more than doubled in sales during the year, and almost doubled in sales & ; Ryzen PRO. Along the way, the company also mentioned the growth of its GPU business, whose profitability in annual terms also doubled. As in the case of CPUs, the average price of graphics cards has become higher. This is due both to the demand for Radeon RX 6000-level solutions, and to the growth of sales of Instinct computing gas pedals for data centers.
In the area of server, embedded and semi-custom solutions, AMD success looks even more impressive due to the spread of EPYC processors and high demand for chips for consoles. This direction has brought the company $ 1.6 billion in revenue, showing a growth of 183% year on year. It is worth noting that this trend is becoming increasingly important for AMD ; based on last quarter it has provided the company 42% of all revenues, while a year ago the share of server, embedded and semi-custom solutions in the company's business was only 29%. Separately, AMD noted that EPYC sales set another all-time record and were able to contribute 20 percent to revenue in the second quarter, while demand for console chips continues to grow in both year-over-year and quarter-over-quarter terms.
Given market trends, AMD has issued a very optimistic outlook for the third quarter, expecting a new record revenue & ; $4.1 billion. As for expectations from the entire 2021, AMD believes that it will be 60% more profitable for it than last year and will generate revenue of $15.7 billion. Investors took the report positively. AMD shares added 2.2 % after the publication of financial indicators.