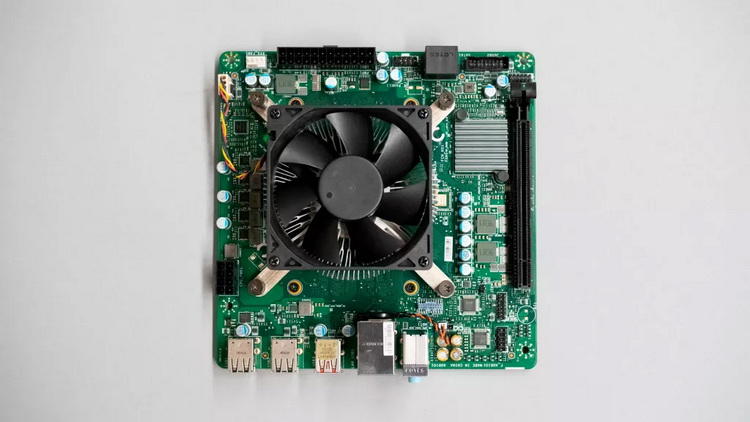 AMD has registered several models of AMD 4700S platform in the base of Eurasian Economic Commission (EEC). This fact may mean that some desktop systems based on the lquo;console» chip, currently available only through Chinese OEMs, will appear in other markets, including Russia, in the near future.
To recap, the AMD 4700S processor comes as part of a Mini-ITX form factor motherboard and is based on the Zen 2 architecture. It has eight cores with a frequency up to 3.2 GHz, capable of handling up to 16 virtual threads. The chip has 8 MB of L3 cache memory and 4 MB of L2 cache memory. The graphics core integrated into the processor is disabled.
There is one PCIe 2.0 x16 slot, but only with four dedicated lines. In other words, it is not possible to use high-performance graphics cards here. AMD itself recommends using with Radeon 550, Radeon RX 550, Radeon RX 560, Radeon RX 570, Radeon RX 580 and Radeon RX 590 graphics cards, as well as models of GeForce GT 710, GeForce GT 1030, GeForce GTX 1050, GeForce GTX 1050 Ti and GeForce GTX 1060 from NVIDIA.
The AMD 4700S platform is available in two configurations: with 8GB or 16GB of GDDR6 memory from SK Hynix. The AMD 4700S processor is mated to the AMD A77E Fusion Controller Hub (FCH) chipset. On the one hand, the registration of the AMD 4700S platform in the EEC database could mean that the company has accumulated enough defective PlayStation 5 processors to sell systems based on them outside of China.
On the other hand, the mere registration in this database does not necessarily indicate that the registered product will be on sale at all, as has been proven many times in the past.
Besides, one should take into account the fact that sales of various models of AMD 4700S-based desktop systems in China have only recently started. Totally, there are four AMD 4700S platform models registered in EEC database: 100-900000004, 100-190000004BOX, 100-900000005 and 100-190000005BOX. It is unknown at this time what the differences between them are. It is quite possible that versions 100-900000004 are equipped with 8 GB of GDDR6 memory, and variants 100-900000005 received 16 GB of memory of the same standard.