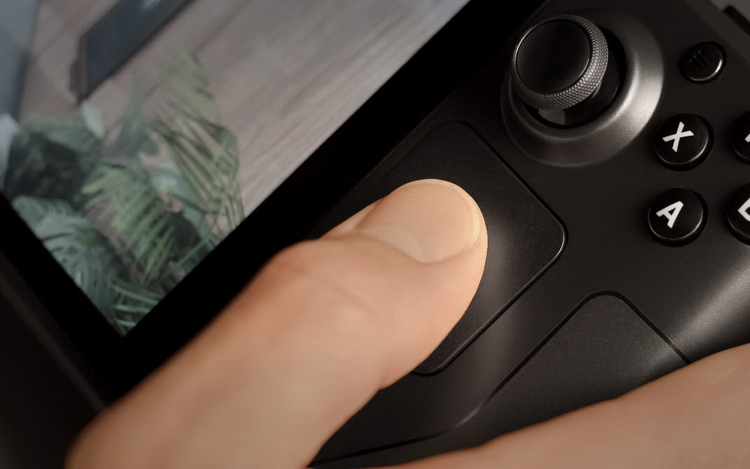 Valve introduced the Steam Deck portable gaming console, which will allow you to play products sold on Steam anywhere. The device is equipped with a powerful processor, a large amount of RAM and will be sold in several variants.
As stated by Valve, Steam Deck & ; «the most powerful multifunctional portable gaming PC in the world». The device features AMD's 2.4-3.5GHz Zen2 processor-based chip and 1.0-1.6GHz RDNA2 GPU (up to 1.6 Tflops FP32), as well as 16GB of LPDDR5 RAM. The 1280 × 800 pixels (16:10) LCD touchscreen has a 7-inch diagonal, 60 Hz refresh rate and 400 cd/m2 brightness.
The portable gaming PC» runs on the SteamOS 3.0 operating system, which in turn is based on Arch Linux. And the desktop is presented in the form of a shell KDE Plasma. It is announced that the console will have a quick stop and resume function: by pressing the power button, the system will pause your game and go to sleep mode; by turning it on, you can resume playing from the place where you finished. To see how the system menu works, visit the official Steam Deck website.
The Steam Deck has two full-size analog sticks with capacitive sensors, two trackpads with tactile feedback and pressure sensitivity, as well as A B X Y buttons, a crossbar, left and right analog triggers, left and right bumpers, the «View» and «Menu» buttons and four assignable buttons. The Steam Deck also features a six-axis gyroscope.
In addition, the Steam Deck has Bluetooth 5.0 wireless interfaces with controller and other device support (including audio) and Wi-Fi (2.4GHz and 5GHz). Sound in the device is provided by stereo speakers, and multichannel audio can be connected via DisplayPort via USB Type-C, standard USB Type-C or Bluetooth 5.0. The console can output images to large screens at up to 8K resolution at 60 Hz or 4K resolution at 120 Hz.
The Steam Deck's battery is claimed to be 40W·h and can handle two to eight hours of gaming.
As we have already written, the gaming device will be sold in several variants. There are three in total:
With 64GB of eMMC storage and a case for $399; With 256GB in the form of a faster NVMe SSD, a case and an exclusive Steam community profile kit for $529; with 512GB in an even faster NVMe SSD, an exclusive case, premium anti-glare glass, an exclusive Steam community profile kit, and an exclusive virtual keyboard theme for $649.
Separate from the Steam Deck will be sold as an accessory & ; a docking station that will allow connection to external displays, a wired network, USB peripherals and a power source. More details about it will come later. However, Valve also mentioned that if you have a USB Type-C hub, you can use it instead of the docking station. Notably, the Steam Deck itself also has support for a microSD card to increase storage capacity.
Steam Deck will go on sale in December 2021 in the U.S., Canada, EU and the UK. In other regions the device is expected next year.