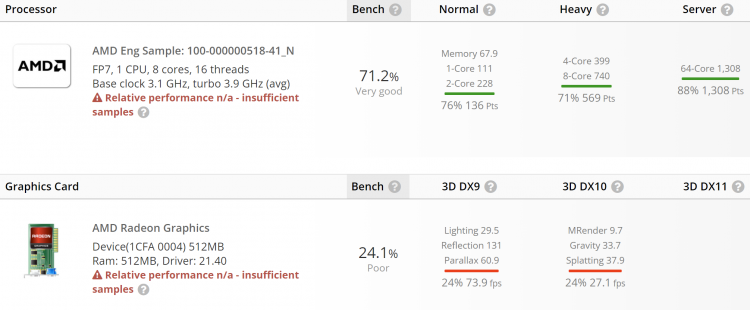 First tracks of upcoming Ryzen 6000-series mobile chips codenamed Rembrandt were found in UserBenchmark database. The AMD processor, codenamed 100-000000518-41_N, made its appearance here. The chip operates in the frequency range from 3.9 to 4.1 GHz.
The fact that the copy belongs to the new generation of mobile processors is indicated by the fact that it uses the FP7 processor socket, which, according to rumors, will appear just with the new 6nm Rembrandt processors. In addition, the specified OPN code of the processor has not been noted anywhere before, which also hints at the fact that the UserBenchmark database has the first information about one of the representatives of the upcoming generation of mobile APU from AMD.
Engineering sample of AMD Rembrandt series mobile processor
According to the test results, the said processor scored 111 points in the single-core test, 222 points in the dual-core test and 740 points in the octa-core test. Thus, in its current state, it is slower than the current Ryzen 7 5800H generation Cezanne, which scores about 132, 256 and 875 points respectively in the same tests. Together with the code of the processor in the database also marked the identification number (1CFA 0004) of its integrated graphics core on RDNA 2 architecture, which was accompanied by 512 MB of RAM. The processor was used as part of some Corsair system codenamed Xenomorph. What this device is & ; it is unknown. Perhaps we are talking about a PC model, as the company is not engaged in the production of laptops so far.
The information also reports that the system used a single Corsair DDR5-4800 memory module with CL40 timings as RAM. AMD Rembrandt & ; expected APU series for mobile gaming and workstations on Zen3+ architecture, which will be produced using 6nm process technology.
AMD processor roadmap (Source: VideoCardz)
The new series is attributed to the use of an integrated graphics subsystem based on RDNA 2 architecture, support for PCIe 4.0 interface and RAM of the new DDR5 standard. According to the latest rumors, mass production of Rembrandt series processors has already started. Their announcement is expected at the CES 2022 electronics show.