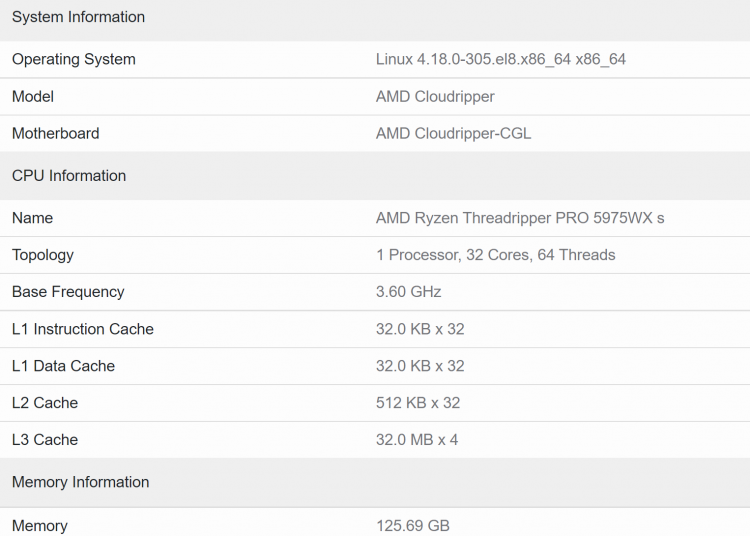 The Geekbench synthetic test database has revealed data on one model of AMD's expected high-performance Chagall-WS (after the artist Marc Chagall) series processors on the Zen 3 architecture. We're talking about the 32-core Ryzen Threadripper PRO 5975WX, which operates in the frequency range from 3.6 to 4.5 GHz.
The processor was tested as part of a certain reference workstation called Cloudripper-CGL, where «CGL» stands for Chagall series code name. This chip will be designed for workstations, and therefore will offer support for eight-channel memory and more PCIe lanes. According to the insider ExecutableFix, cited by VideoCardz, Ryzen Threadripper PRO 5000 processors may be AMD's only series of high-performance workstation processors based on Zen 3 architecture, because the company allegedly decided not to release Ryzen Threadripper series chips without the prefix PRO.
AMD Ryzen Threadripper PRO 5975WX specifications
Boost frequency of AMD Ryzen Threadripper PRO 5975WX
AMD Ryzen Threadripper PRO 5975WX performance
Ryzen Threadripper 3970X performance
In single-core test the processor scored 1686 points, in multi-core & ; 27 603 points, which is 34% and 23% higher respectively than the current 32-core model Ryzen Threadripper 3970X based on Zen 2.