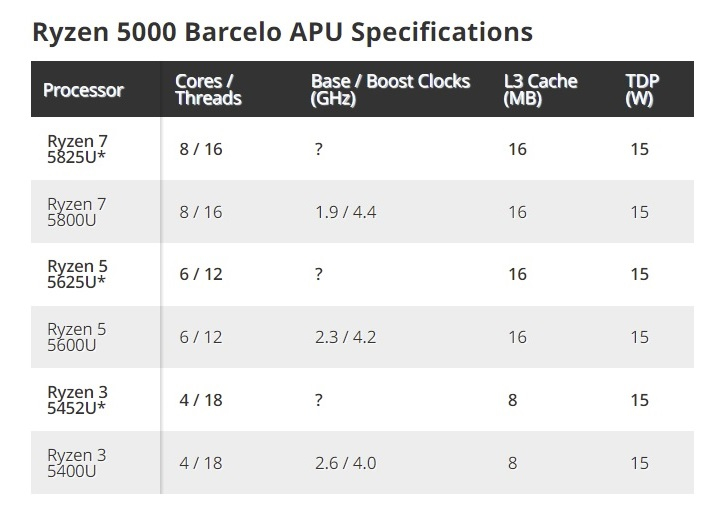 HP's product database has found a mention of the upcoming AMD Barcelo family of mobile processors belonging to the Ryzen 5000 series. Apparently, the new products will be an update to the Cezanne series of mobile processors.
AMD has created some confusion about its mobile processor series. It all started with the release of the Lucienne models. Instead of releasing them as part of the Ryzen 4000 family, of which they are, in fact, an upgrade, the manufacturer decided to release them in the Ryzen 5000 series, which by that time had already produced high-performance mobile chips Cezanne. Now it turns out that the Ryzen 5000 series will produce three processor families at once: Lucienne (Zen 2), Cezanne (Zen 3) and the new Barcelo (Zen 3). The Ryzen 5000U (Lucienne) processors get a slightly revised memory controller, support for individual core voltage management, faster integrated graphics and other features over their Ryzen 4000U predecessors. Whether the Barcelo series chips can boast the same set of innovations & ; is unknown. Unfortunately, the HP leak does not specify the specification of the updated processor models.
The illuminated Ryzen 7 5825U, Ryzen 5 5625U and Ryzen 3 5452U models of the Barcelo family will replace the Ryzen 7 5800U, Ryzen 5 5600U and Ryzen 3 5400U chips. Belonging to the U-series, which indicates their energy efficiency and TDP rating of 15W. However, it should be recalled that AMD reserves the right for its partners among laptop manufacturers to change the TDP for this series of chips in the range from 10 to 25 watts. In the new chips AMD is unlikely to change the number of cores and the amount of their cache memory level 3. Most likely, Ryzen 7 5825U and Ryzen 5 5625U and Ryzen 3 5452U models will retain the main technical characteristics of their predecessors. The first will offer eight cores Zen 3, the second & ; six cores, and the younger model & ; four cores on the same architecture. At the same time all three chips will have multi-threading support (SMT). The Ryzen 7 5825U and Ryzen 5 5625U will have 16 Mbytes of L3 cache, while the Ryzen 3 5452U will have 8 Mbytes of L3 cache. The operating frequency of the Ryzen 5000U (Lucienne) series processors is typically 100–200 MHz higher than the Ryzen 4000 (Renoir) chips. It is very likely that Barcelo processors will also offer higher frequency performance compared to Cezanne models. Built-in Vega graphics as part of the updated chips should also get an increase in operating frequencies. According to rumors, AMD may release a series of mobile Barcelo processors at the beginning of next year.