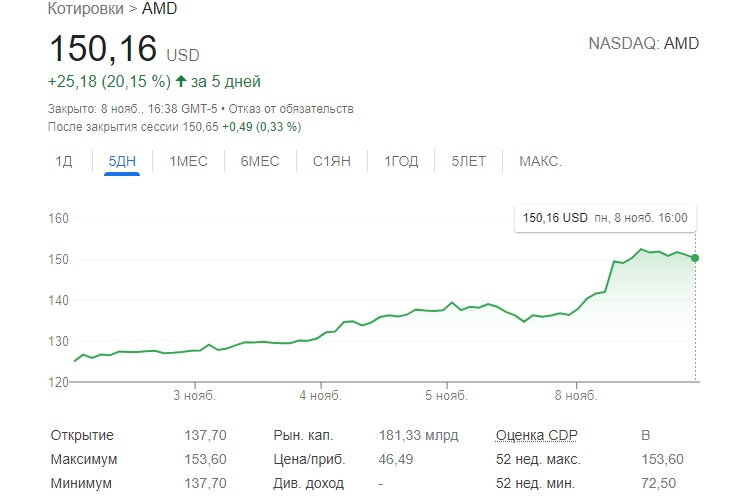 AMD shares were up 10 percent at the close of trading Monday after the company announced that it had entered into an agreement with Meta, formerly Facebook, to supply EPYC processors. AMD also unveiled a number of new server chips during its Accelerated Data Center Premiere event.
AMD shares rose from $137.47 to $150.16 in today's trading session thanks to the announcements, and at their peak their price reached $152.15. In total, since the beginning of the year, the company's shares have increased in price by 63%. New server processors will help the company to strengthen its positions against competitors. Already, AMD is taking market share away from market leader Intel as cloud service providers such as Microsoft, Amazon and Google increasingly buy its chips. AMD CEO Lisa Su said last month that sales of data center processors doubled year over year in the most recent quarter. As a result, data center chips now account for 20 percent of the company's sales. Data center chips are part of AMD's embedded, enterprise and partially customizable systems division, which brought in $1.9 billion in the latest quarter, up 69% from last year.
Lisa Su noted: We are gaining significant momentum in the data center sector with our leading product line. Among our accomplishments & ;Meta's transition to AMD EPYC to power its infrastructure and the creation of Frontier, the first exaflops supercomputer in the U.S. to be powered by EPYC processors and AMD Instinct accelerators». As announced at today's event, AMD and Meta have been working together to create an open, cloud-based, single-socket server based on the 3rd generation EPYC processor. However, details of AMD's deal with Meta will be revealed later this week during the Open Compute Project Summit.