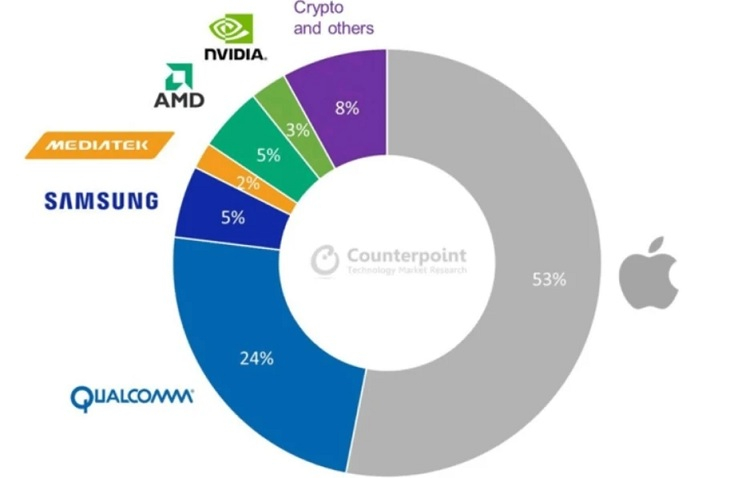 TSMC the largest independent chipmaker in the world, and Apple TSMC's largest customer. In August TSMC announced a 20% price increase on chips, but for Apple the price increase was only 3%. The semiconductor giant is trying hard to keep its key customer, offering the best conditions and maximum access to production capacity. According to the resource Guru3D, this state of affairs does not suit AMD, which conceived the idea to use the services of Samsung Foundry main rival TSMC.
TSMC is reportedly focused on making sure it has enough production capacity to produce Apple's future 3nm chips. It looks like this could lead to the chipmaker not having enough silicon wafers to meet AMD's needs, which doesn't sit well with the company at all. It is reported that when it comes to the production of 3nm chips, Qualcomm will have to choose between TSMC and Samsung. Currently, Qualcomm's upcoming flagship chipset, which is attributed the name Snapdragon 8 Gen1, is expected to be produced by Samsung, while the release of its improved version next year will be handled by TSMC.
According to Counterpoint Research, this year Apple has 53% of TSMC's capacity to produce 5-nm chips, which gives the company such influence. It is followed by Qualcomm with 24% share. Currently, only TSMC and Samsung are able to produce chips using 5nm process. If the latter will have enough production capacity to create 3-nm chips to convince AMD and Qualcomm to use its services, it could lead to a huge jump in revenues for Samsung Foundry next year. It is worth noting that whether Samsung and Qualcomm will be able to launch production of 3nm chips anytime soon remains an open question. Earlier this year, TSMC said its mass launch would be delayed by about a year due to the complexities of 3nm production. But a recent Digitimes report says that TSMC is back on track to launch 3nm production next year, although things could still change at this stage.