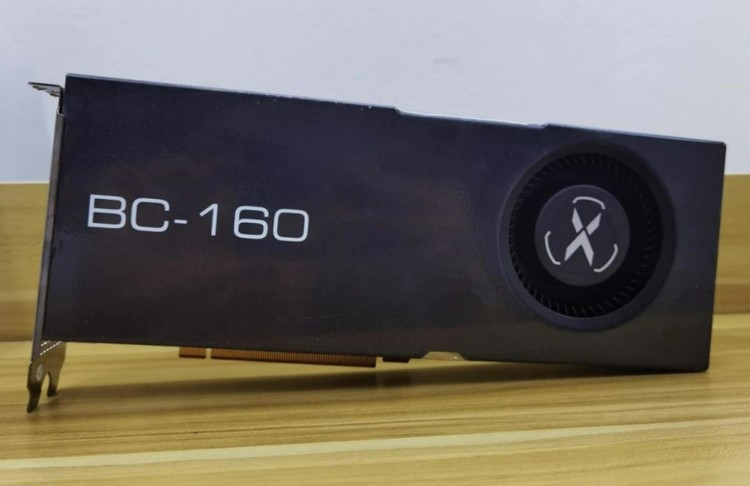 Last October, information about the mysterious AMD BC-160 video card designed for mining appeared on the web. Now this gas pedal can buy anyone who has 150 thousand rubles - a novelty appeared on Aliexpress. And if the claimed characteristics of it are true, it's not even unreasonable.
A key feature of the AMD BC-160, the sellers claim, is the combination of high mining performance and low power consumption. It is claimed that the performance of the gas pedal is above 72 Mhash/s for Ethereum mining, while the power consumption does not exceed 130W. This can provide revenue above $4.5 per day. The performance of the new product is higher than that of the Radeon RX 6900 XT (around 64 Mhash/s) and comparable to that of the NVIDIA GeForce RTX 3080 LHR after "unlocking" (around 70 Mhash/s).
According to the product description, the AMD BC-160 gas pedal is built on the 7nm Navi 12 GPU in a 36 compute block version, which means 2304 stream processors. Earlier AMD released only two graphics cards on this GPU: mobile Radeon Pro 5600M for Apple MacBook Pro, and server AMD Radeon PRO V520 for cloud services. The Navi 12 GPU is equipped with 8 GB of HBM2 memory with a 2048 bit width interface. The frequency of memory, as well as the GPU itself, are not specified. However, it can be assumed that the memory runs at an effective frequency of 2000 MHz, resulting in a bandwidth of 512 GB/s. Actually, the high memory bandwidth provides a very high performance in Ethereum mining.
We should add that the BC-160 boasts a PCI Express 4.0 x16 interface as well as a pair of 8-pin auxiliary power connectors. Nevertheless, it is claimed that in mining its power consumption is only 130W. The cooling system with a tangential fan ("turbine") is responsible for heat dissipation. The AMD BC-160 graphics card is offered on Aliexpress at a price of 151,670.13 rubles. The sellers promise to deliver it to Moscow in a few weeks, and also mention a full warranty.