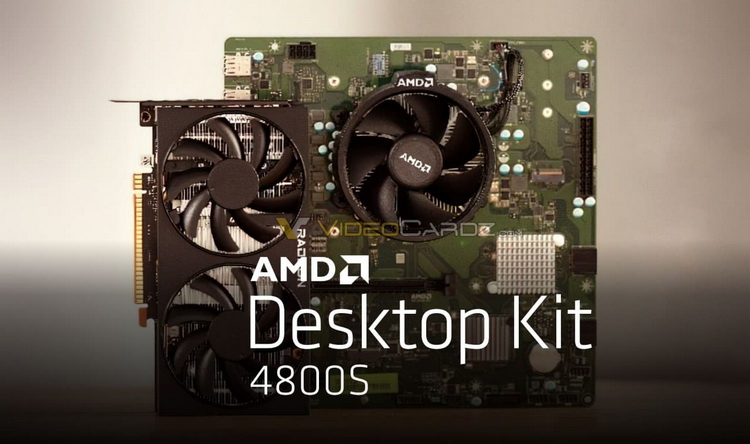 At the disposal of VideoCardz appeared photos of the future AMD 4800S Desktop Kit computer, which includes an unknown AMD 4800S processor. Information about this device is still scarce. Perhaps this system is built on another AMD hybrid processor, which was originally intended for use as part of a gaming console.
The source of the photos said almost nothing about the characteristics of this platform. We only know that the processor at its core uses the Zen 2 architecture. At the moment it is not clear whether AMD 4800S is a variant of the already known chip AMD 4700S, but with a higher clock speed, or it is a completely different processor. Recall that the hybrid AMD 4700S, which is distributed through OEM manufacturers, is the desktop version of the processor from the PlayStation 5 game console. It is possible that the AMD 4800S is the desktop version of the APU for one of the Xbox Series gaming consoles. However, this cannot be confirmed at this time.
If the specified specifications are correct, there are differences between AMD 4700S and 4800S. For example, the latter supports PCI-Express 4.0 interface and the 4800S Desktop Kit motherboard is equipped with such a connector. The 4700S, on the other hand, only works with PCIe 2.0 interface. Moreover, if the lower version can only work with entry-level graphics cards (e.g. Radeon RX 550), then 4800S supports more powerful gas pedals. For example, the basic 4800S Desktop Kit includes Radeon RX 6600 video card. It should also be noted the presence of two M.2 slots in the platform: one for installing NVMe-drive, the second & ; for Wi-Fi module. No less important detail is support for cooling system for Socket AM4 processor socket. As writes VideoCardz, AMD 4800S Desktop Kit system will be released in the first quarter of 2022. It will be manufactured by MSI. The kit will include a PowerColor Radeon RX 6600 gas pedal. Nothing is yet known about the plans to release other versions of the system (without a graphics card), as well as the price of this kit.