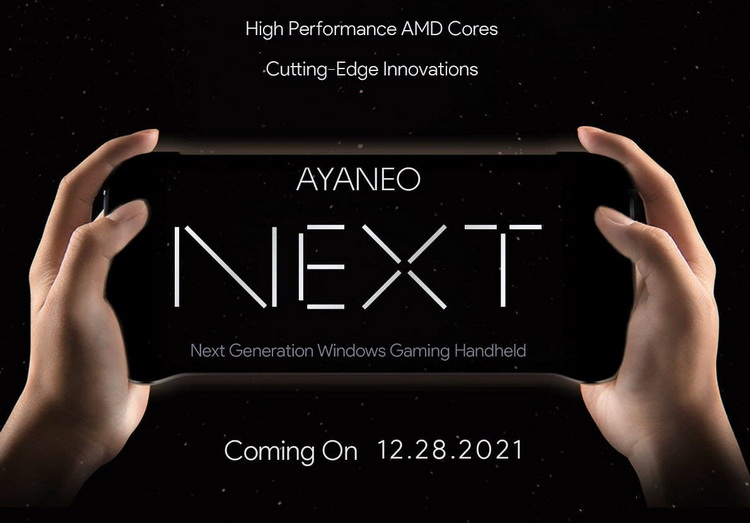 Aya is set to unveil an updated handheld gaming console, AyaNeo Next, on December 28. The manufacturer said that the console will be based on a new generation of AMD's cores, but did not specify what architecture in question and therefore what chips.
As a reminder, Aya released two Neo handhelds at once this year. The original model is based on a six-core and six-stream AMD Ryzen 5 4500U at 4.0 GHz, which also uses six Radeon Vega graphics processing units. The updated Aya Neo 2021 Pro is based on the more powerful octa-core and 16-thread AMD Ryzen 7 4800U at 4.2GHz. The integrated graphics core in the Pro version of the console processor also contains two more processing units, and the graphics itself runs at 1.75 GHz, 250 MHz higher than the Ryzen 5 4500U model.
AYANEO NEXT New generation AMD cores for gamers Innovations never seen on a Windows gaming handheld JOIN US ON 12.28.2021 pic.twitter.com/RXRDCMOcdv & ; AYANEO (@AYANEO__) December 21, 2021
AMD will unveil the Ryzen 6000 (Rembrandt) mobile processor series in early January. They are based on 6nm process technology, will use the updated Zen 3+ core architecture and will get an integrated graphics core based on modern RDNA 2 architecture. Recall that the latter is used, for example, in a portable console Steam Deck.
Comparison of the characteristics of portable consoles.