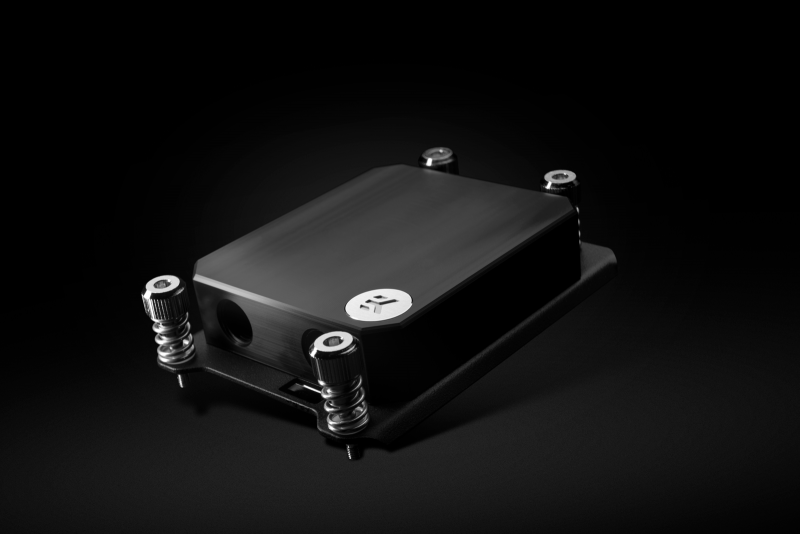 EK Water Blocks, a leading manufacturer of liquid cooling systems, has released the high performance EK-Pro CPU WB sTR Rack solution for cooling AMD EPYC and AMD Ryzen Threadripper processors, compatible with 1U chassis. Server compatibility is achieved by placing the G1/4" threaded ports on the sides to reduce the overall height of the design.
The EK-Pro CPU WB sTR Rack waterblock is ideal for AMD enterprise-class processors. When designing it, the developers paid special attention to the full coverage of the heat distribution cover of AMD Ryzen Threadripper and AMD EPYC processors to achieve optimal cooling performance.
The top is made of durable polyacetal, CNC-machined. The base of each EK-Pro CPU WB sTR waterblock, is made of special pure copper with nickel plating. Inside, there is a network of 91 microchannels covering the entire CPU cover to increase cooling efficiency. It also comes with EK-TIM Ectotherm's proprietary thermal paste. The EK-Pro CPU WB sTR waterblock comes pre-assembled with a mounting mechanism to prevent mounting errors. It is also fully compatible with AMD SP3/TR4 socket based motherboards. With this mounting solution user doesn't need to take the motherboard out of the case and he can install waterblock or change processor without any problems. The EK-Pro CPU WB sTR Rack is made in Slovenia and is available for order at the official EK store.