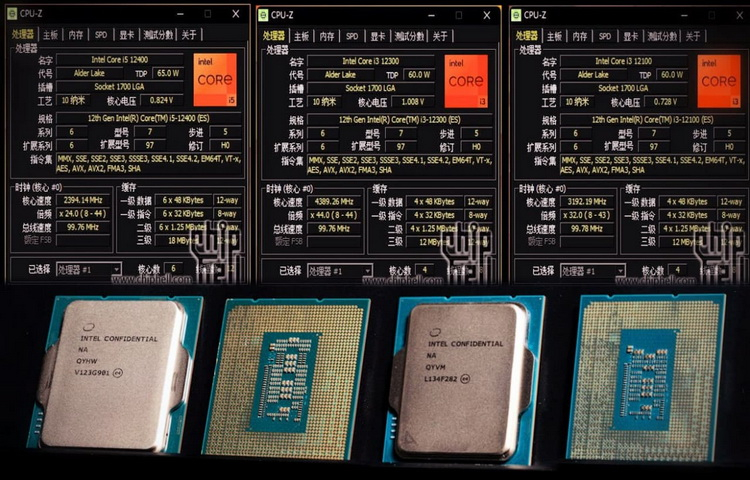 One of the users of Chinese forum Chiphell has shared test results of qualification (pre-release) samples of quad-core Intel Core i3-12100 and Core i3-12300 processors, consumer versions of which will be officially unveiled next week. A six-core Core i5-12400 model, which is waiting for an announcement, also got into the comparative test. Younger Intel Alder Lake processors were compared with actual AMD's solutions.
Qualifying samples of Alder Lake-S processors labeled QYVQ, QYVR, QYHW and QTVM have been tested. Each of them is likely to have characteristics as close to the consumer versions as possible.
Curiously enough, the Chinese insider also has two versions of Core i5-12400 processor C0 and H0 revisions qualification samples at once. The last one is to be based on Alder Lake chip without power efficient cores. The first one uses «trimmed» crystal, which is used in already released older models of Core 12th generation processors, with small cores. There is no difference in performance between these versions of the chips. The differences lie only in the level of power consumption and heat dissipation. However, according to the Chinese reviewer, these indicators are not critical.
Gaming performance of the younger Alder Lake models was up to 33% higher than that of the younger AMD models. Among the latter were Renoir chips on Zen 2 architecture, as well as Cezanne on Zen 3. In «synthetics» Intel novelties were inferior even to Ryzen 3 5350G. According to the reviewer, the situation will not change until AMD does not release new Renoir-X models without integrated graphics. According to Chinese insider, the Intel Core i3-12100 and Core i3-12100 processors will cost about $125–141. The review also notes that the six-core Core i5-12400 could be a direct competitor to the Ryzen 5 5600G desktop hybrid processor. The Ryzen 5 5600X in turn offers better performance in some games, but not always in «synthetic».