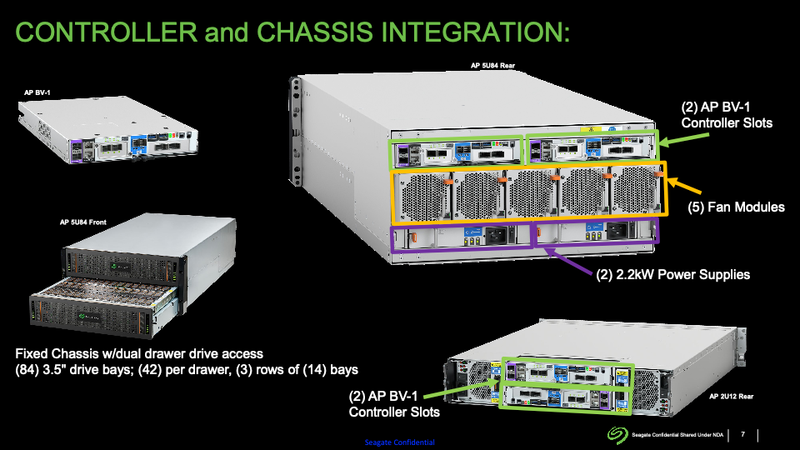 Seagate has introduced an updated AP convergent platform, combining storage and processing power. Seagate already had quite serious Exos AP and Nytro AP series solutions in its arsenal. All of them used Intel processors, but now the portfolio includes AP-BV-1 controllers based on AMD EPYC 7292P.
The novelty is a self-contained solution in a 2U or 5U chassis, based on one or two AP-BV-1 controller nodes. Each has 8, 12 or 16 CPU cores and four DDR4-3200 slots (64 GB modules, up to 256 GB total). For the OS, there are M.2 slots capable of working in RAID1 mode. By default there are two 10GbE ports and three service 1GbE ports, but you can install adapters up to 100GbE.
Two sets of eight PCIe 4.0 lanes in each node serve a Broadcom SAS controller. The nodes communicate with each other via 16 PCIe 3.0 NTB lines. In the case of the Exos AP 5U84 the rest of the 5U volume is taken by two sliding disk shelves, each of which can hold up to 42 LFF SAS-3 drives (three rows of 14). The Exos AP 2U12 has 12 SAS-3/SATA-3 LFFs and the Nytro AP 2U24 can hold 24 SFF SSDs, also SAS-3 or SATA-3.
The Exos AP 5U84, Exos AP 2U12 and Nytro AP 2U24 have a maximum total storage capacity of 1,512 Pbytes, 216 Tbytes and 316 Tbytes respectively with an 18-Tbyte HDD and 15-Tbyte SSD. And that's not the limit & ; connecting additional Exos E SAS shelves is supported, good thing each controller has four external Mini-SAS (12Gbps) ports. There's also both an OCP 2.0 slot (PCIe 4.0 x8) and a half-length low-profile card slot (PCIe 4.0 x16).
Usage Scenarios
The system is powered by a pair of redundant 764W (2U) or 2200W (5U) units, with remote management via dedicated 1GbE ports on each controller. Standard IPMI/SES and Redfish protocols and APIs are fully supported. As a result, Seagate Exos AP is a complete solution, capable of storing and processing data in a single chassis. Even the older model is compact and suitable as a peripheral data acquisition and storage system that can be easily expanded as needed.