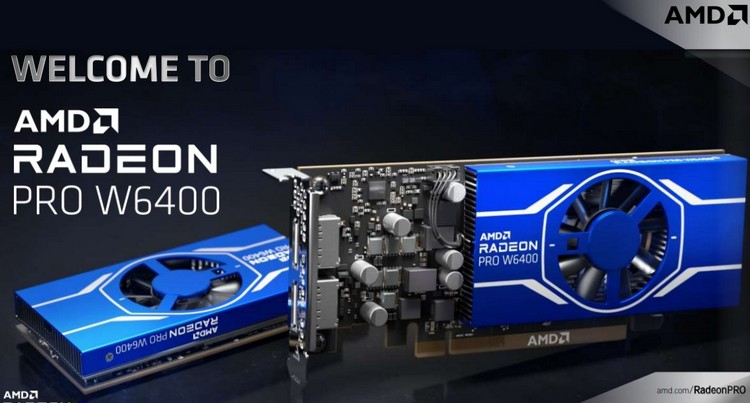 AMD has introduced the Radeon PRO W6400 entry-level professional graphics gas pedal. This is the first professional-grade graphics card based on a GPU based on the 6nm process. Recall that the first consumer graphics card based on the new technology was Radeon RX 6500 XT, which was presented at CES 2022.
The Radeon PRO W6400 gas pedal is based on the AMD Navi 24 graphics chip with 768 stream processors. A similar chip is used in the consumer model of the Radeon RX 6400 graphics card, which will be distributed only in off-the-shelf PCs. Performance in FP32 operations at Radeon PRO W6400 announced at 3.54 Tflops, and in operations FP16 & ; 7.07 Tflops. The graphics chip is working at a frequency of up to 2300 MHz.
Radeon PRO W6400 model has 4 GB of GDDR6 memory with 64 bit width, as well as 16 MB of dedicated Infinity Cache memory. The graphics card has a total memory bandwidth of up to 128 GB/s. The new graphics card has a claimed power consumption of 50W. No external power connectors are provided. The graphics card has two DisplayPort 1.4 video outputs.
The card is equipped with a full-length PCIe 4.0 x16 interface, but only supports four PCIe lanes. The same feature has Radeon RX 6500 XT. It does not have AV1 decoder support, but has support for HEVC / H265 codecs. In terms of performance, according to AMD, the novelty is noticeably superior to its counterpart from NVIDIA in the face of T600 gas pedal for $249.
Professional video card Radeon PRO W6400 is priced by AMD at $229;