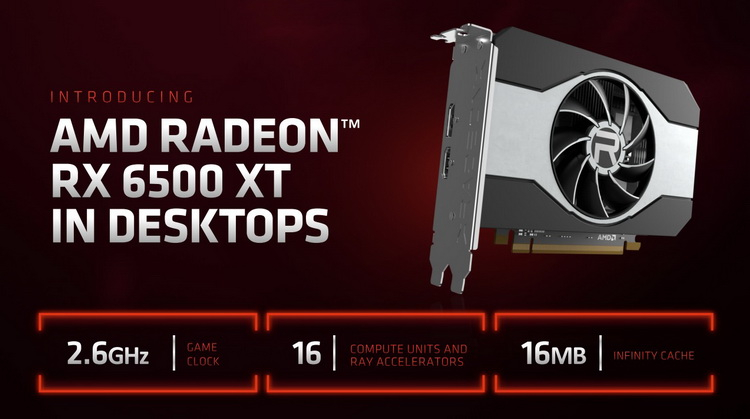 AMD has introduced a new entry-level discrete gaming graphics gas pedal & ; Radeon RX 6500 XT. The manufacturer indicates that the card will be on sale January 19. The recommended price for new items will be $199.
The Radeon RX 6500 XT is based on the Navi 24 XT processor developed using TSMC's 6nm N6 manufacturing process. The chip includes 16 execution units with 1024 stream processors and 16 blocks of hardware ray tracing acceleration. The gaming frequency of the processor is declared at 2610 MHz, and the maximum & ; at 2815 MHz. The graphics card features 4 GB of GDDR6 memory with 64-bit bus support and a throughput of 144 GB/s, along with 16 MB of additional Infinity Cache. The new graphics card has a claimed power consumption of 107W.
It has up to 1.6 times better gaming performance than popular solutions from the entry-level gaming segment. The company compares the novelty with the released in 2019 model NVIDIA GeForce GTX 1650 and presented two years earlier AMD Radeon RX 570. In addition to the aforementioned graphics card, AMD introduced a new scaling technology Radeon Super Resolution, which is essentially a software version of FidelityFX Super Resolution (FSR). Information about it was published at the end of last month. Recall that Radeon Super Resolution or RSR is based on the FSR algorithm.
RSR technology allows you to scale the image from lower to higher, while increasing the overall level of performance in games. Unlike hardware FSR, which requires support from game developers to implement, Radeon Super Resolution technology is implemented at the driver level and therefore, as AMD points out, will initially be supported in thousands of different games. The release of RSR technology will take place during the first quarter of this year, when the company will release a new version of the graphics driver Radeon Adrenalin Edition. The driver will include support for AMD Link 5.0 and Smartshift Max technologies, among other things.
The last one is designed for AMD-based notebooks with Radeon graphics cards and allows to effectively distribute power between CPU and graphics card when needed. The technology will get support for more games and allow for up to a 13% performance boost. The claimed SmartShift Eco feature will increase the laptop's runtime by up to two times.
It's also said SmartAccess Graphics will automatically redistribute the load between the laptop's built-in and discrete graphics cards, improving the performance and energy efficiency of the latter.