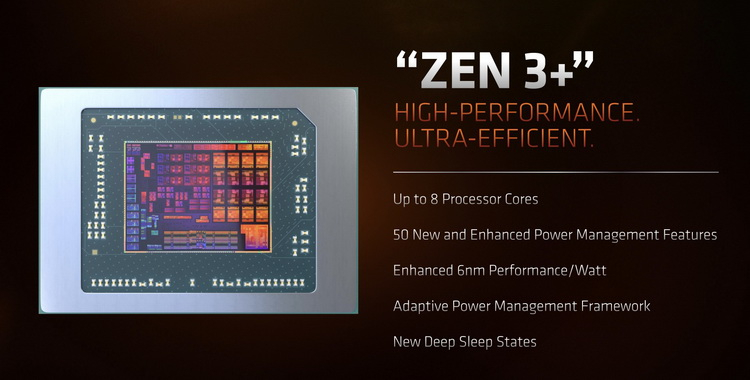 AMD has officially unveiled the Ryzen 6000 family of Rembrandt mobile processors. The series includes eight models of high-performance Ryzen 6000H series for powerful gaming notebooks, as well as two energy-efficient Ryzen 6000U models for thin and compact laptops. In addition, the manufacturer announced a series of mobile processors Barcelo, which are updated Cezanne (Ryzen 5000U).
Ryzen 6000 (Rembrandt) mobile processors are built on the updated Zen 3+ architecture and use a new 6nm manufacturing process. Novelties are ready to offer up to 8 computational cores with support for up to 16 virtual threads. Ryzen 6000H series models have a claimed TDP range from 35 to 45W. The power efficient Ryzen 6000U models have a dynamic TDP range of 15 to 28W. In other words, the choice in favor of one or another TDP processor will depend directly on the laptop manufacturers themselves. The flagship model of the new H-series is the Ryzen 9 6980HX. The chip offers 8 cores with support for 16 threads and a maximum frequency of 5.0 GHz. The amount of cache memory in the second and third levels of the processor is 20 MB. The youngest model of high-performance Ryzen 6000H processor is Ryzen 5 6600HS. The processor has six processing cores with support for 12 virtual threads, as well as 19 Mbytes of cache memory in the second and third levels. In the Ryzen 6000 series processors, AMD has finally abandoned the built-in Vega generation graphics. The chips now use RDNA 2 graphics architecture. The frequency of the integrated graphics processor and the number of graphics cores depends on the model of the processor. If the junior chip Ryzen 5 6600HS involved six graphics cores with frequencies up to 1.9 GHz, the flagship Ryzen 9 6980HX model has twelve graphics cores running at up to 2.4 GHz. AMD doesn't specify this, but there are 64 stream processors in each graphics core, giving the novelties up to 768 stream processors.
The energy-efficient Rembrandt is represented by Ryzen 7 6800U and Ryzen 5 6600U models. The first one has 8 cores with support for 16 virtual threads, operates in the frequency range from 2.7 to 4.7 GHz and is equipped with 20 Mbytes of cache memory of the second and third levels. The junior model has six cores with twelve virtual threads, runs from 2.9 to 4.5 GHz and has 19 megabytes of cache memory on levels two and three. The senior model has twelve integrated graphics cores based on RDNA 2 architecture, running at up to 2.2 GHz. The junior model has six graphics cores up to 1.9 GHz. The manufacturer claims for the new processors up to 40% lower power consumption for video streaming, up to 30% lower consumption in video conferencing applications and up to 15% lower power consumption for browsing. As for the performance of the integrated graphics, it is up to three times higher in games than direct competitors and up to two times faster than the previous generation of Ryzen 5000 mobile processors, according to AMD. Single-core and multi-core computing performance of Ryzen 6000 processor models is up 10–30% higher than the previous generation. The support of LPDDR5 memory up to 6400 MHz and DDR5 memory up to 4800 MHz, PCIe 4.0, USB4 (40 Gb/s), HDMI 2.1 and DisplayPort 2.0 readiness, Wi-Fi 6E and Bluetooth LE 5.2, AV1 video encoder support is claimed for these processor-based notebooks. Notebooks based on AMD Ryzen 6000 processors will be available in February of this year; There are three models of mobile processors Barcelo series on the architecture Zen 3, built on a 7-nm process technology: eight-core Ryzen 7 5825U, six-core Ryzen 5 5625U and quad-core Ryzen 3 5425U. The first runs in the 2.0 to 4.5 GHz frequency range, the second & ; 2.3 to 4.3 GHz, and the third & ; 2.7 to 4.1 GHz. The eight-core and six-core models each got 20 and 19 Mbytes of Layer 2 and Layer 3 cache memory respectively. The junior quad-core model has 10 Mbytes of cache memory of the second and third levels. These processors use up to 8 Vega graphics cores embedded at 1.5GHz to 1.8GHz. The stated power consumption rating of these chips is 15W.